TOEFL Coaching in Ahmedabad
Have you decided to do your studies abroad? Then you need to appear for the TOEFL exam and get training from the leading institute. Kanan International is a study abroad pioneer who regularly conducts TOEFL coaching in Ahmedabad. Fill us the inquiry form to know more about the upcoming batches, and deals & offers.
Besides conducting coaching classes for the TOEFL exam, we also conduct foreign university entrance exam coaching classes like GRE, IELTS, GMAT, SAT, PTE, Duolingo, etc. We strictly follow the ETS TOEFL syllabus and other guidelines. Experienced English language teachers handle our TOEFL coaching in Ahmedabad. Our class duration is 30 hours. Our TOEFL class fees in Ahmedabad is INR 12,500.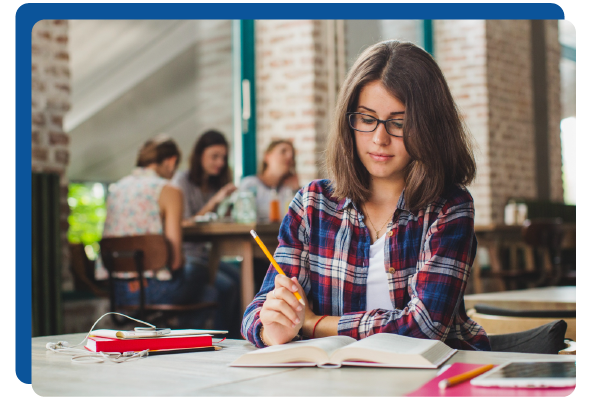 What is the syllabus for the TOEFL Course in Ahmedabad?
At Kanan International, our expert trainers will go through each section and questions and make sure all the students have a clear understanding in that particular area. All of the classes of our TOEFL course in Ahmedabad follow the updated syllabus of 2022 and 2023 which is prescribed by the ETS. Let's check the updated syllabus of TOEFL:
TOEFL reading test
You've to read the passages and respond to the questions in the TOEFL reading test to prove your reading skills. This test not only checks your reading ability, but also how well you understand the language, concept and how you analyze and come up with the answers. You'll be given 3 to 4 passages with 10 questions each and the total duration would be 54 to 72 minutes.
TOEFL listening test
As the purpose of appearing for the TOEFL test is to study abroad, the students need to understand the language of the native speaker. That's why the TOEFL listening test is in place to test your academic language understanding by giving you the lectures and academic conversations to listen. You'll have to listen 3-5 minutes long 3-4 lectures and 2-3 conversations. Lectures carry 6 questions each and conversation carries 5 each. The duration to answer would be 41-57 minutes.
TOEFL writing test
There will be two parts in the TOEFL writing test. Integrated writing which you need to read the passage, listen to the audio and write the answers in 20 minutes. Independent writing involves presenting your opinion for the given topic or need to write an essay in 30 minutes.
TOEFL speaking test
Speaking test of the TOEFL contains 4 tasks which are in two parts. Integrated speaking and Independent speaking. Independent speaking carries a room for presenting your ideas and experiences. Integrated speaking comes with the combination of tasks where you need to listen and then speak your answer or read, listen and then speak up your answer. The time duration of 45-60 seconds will be given as a response time.
Are you finding difficulty in getting familiar with the TOEFL syllabus and starting your preparation? Here at our TOEFL course in Ahmedabad trainers make you get trained by conducting classes that follow the updated syllabus pattern, giving study resources, and practice tests.
What are the upcoming batches, schedules, timings, duration, course fees of the best TOEFL coaching center in Ahmedabad?
Considering the convenience and timing needs of students', working professionals and gap year candidates, we have different TOEFL prep batches in Ahmedabad, including weekdays, weekends, fast track, and online. You can find details about our upcoming TOEFL batch info and course fees regarding our TOEFL coaching center in Ahmedabad from our page. The average TOEFL class fees in Ahmedabad is INR 12,500. Kanan International's TOEFL tuition fees in Ahmedabad is also the same.
| Upcoming Batches | Batch starts on | Timing | Duration of the course | | Availability |
| --- | --- | --- | --- | --- | --- |
| Weekdays regular | 5 Jun 2023 | Flexible Timing between 9.30 AM - 8.30 PM | 60 hours | | |
| Weekdays morning | 6 Jun 2023 | 9.30 AM - 8.30 PM | 60 hours | | |
| Weekdays evening | 9 Jun 2023 | 9.30 AM - 8.30 PM | 60 hours | | |
| Weekends | 12 Jun 2023 | 9.30 AM - 8.30 PM | 60 hours | | |
| Online batch | 14 Jun 2023 | 9.30 AM - 8.30 PM | 60 hours | | |
| Fast-track batch | 14 Jun 2023 | 9.30 AM - 8.30 PM | 60 hours | | |
Want to join the best TOEFL coaching center in Ahmedabad? Need a customized TOEFL coaching class in Ahmedabad? Cannot fit into any one of the above batches? Or looking for one-on-one tutoring classes for TOEFL, please fill in the enquiry form to receive a call back from our study abroad expert. Our expert counselor will arrange a free demo class for TOEFL and an open study abroad career consultancy.
Who will Train you?
What is the Coach/Trainer Profile of TOEFL classes in Ahmedabad?
Trainers who are passionate about teaching, English language, study abroad industry and who serve 6+ years in this field and have expertise and record of giving training for many students' achieve their dream will take coaching for you.
6+ years and 5000+ students are the numbers that define our TOEFL classes in Ahmedabad trainers' expertise.
Passion for teaching and language and their experience drives them to handle 100+ students who have different ability levels at a time.
Our TOEFL classes in Ahmedabad are named for the friendly and patient trainers who can support their students' in each section, questions, doubts and the areas where they struggle with.
DELTA, TESOL, TEFL, CELTA, TOEFL certified trainers will take coaching for the students to score high in the exam.
Faculties at Kanan International have experience in creating and developing the exam pattern of the TOEFL exam that allows them to give better training.
Our trainers not only have the record of top scored students' in their batch but they themselves are the top scorers in the study abroad exams.
Following the syllabus and pattern of the exam is usual for our faculties but going out of the box, creating strategies, sharing study abroad trends and information need passion which our trainers have, that makes our students better interact with the trainers about their dream.
10 Reasons why you should enroll for TOEFL training in Ahmedabad at Kanan International
High Score of 90 to 100 in the TOEFL iBT will ensure your admission into a top global university with a good scholarship. Besides being a non-native English speaker, a good TOEFL score will enhance your job opportunity abroad and also in your visa application process. There are several TOEFL coaching institutes in Ahmedabad. Still, in this section, you will learn the highlights of Kanan International's TOEFL training in Ahmedabad and what are our USPs and why thousands of students trust us every year for TOEFL prep in Ahmedabad.
Very experienced Faculty: All our faculty are English language experts with a minimum of 8 years of experience in training students for the TOEFL exam.

Experience & Expertise: We are a national pioneer in study abroad consultancy & coaching. We have more than 24 years of experience in this field, and we have successfully helped more than 20,000 students to achieve their study abroad dreams.

Market Leader & pioneer: We are a market leader in conducting coaching classes for exams like GRE, TOEFL, IELTS, GMAT etc. Many of the other leading training institutes in this area lookup to us and use our pedagogy and software for their growth. Many of the other top training centres use our software named KTools, which is a cloud-based overseas education management software.

Infrastructure: Our TOEFL coaching in Ahmedabad comes with excellent state of the art infrastructure, including a dedicated lab where students can write mock TOEFL tests and practise exams in a real-time exam simulated exam environment. We also possess an excellent library with a vast collection of TOEFL books, study materials and other exam prep guidance materials.

Small Batch Size: Our TOEFL training in Ahmedabad is conducted in such a way that we provide individual attention to each and every student. So our batch size is limited to 6 students per batch. In this way, we have more time for doubt clearing sessions and maintain an ideal student-teacher ratio.

Updated TOEFL Syllabus for 2022: Our TOEFL exam coaching follows the latest exam patterns and syllabus for both TOEFL IBT (internet-based Test) and PDT (paper delivered Test).

4.7 / 5-star reviews out of 19000 student votes: Kanan International is the most 5 star reviews TOEFL institute in Ahmedabad. Some of our features students loved are faster preparation, certified teachers, coaching method, excellent support service, visa consultancy, friendly booking and enquiry, perfect career education, unique tips provided to score more in TOEFL-iBT etc.

Detailed attention to all sections: Our TOEFL training classes give equal attention to all four areas of the TOEFL exam including Reading, Writing, Listening, Speaking. Since 30 marks are allocated to all these sections, we treat all of them equally important. That is why most of our students were able to score atleast 100 marks in the TOEFL exam and get admissions to top US universities.

Teaching Methodology: We follow some of the out of the box TOEFL teaching methods like myriad audio recordings for text passages, news listening & newspaper reading for answering latest questions, gamification of grammar learning, answering questions in our computer lab during practice exams within a shorter time, essay writing, learning materials etc.

Exam registration help: We not only help our students in coaching, but we also help them in registering for TOEFL exams either via online or via email or phone at their convenient date. Please note that, once you pay the registration fees, you will be notified one week before the exam about the test centre via email. Of course, you need a TOEFL test centre and date to choose your preferred test centre and date. We will help you with that. Once the exam is over, you will receive the test score within ten days.
We hope you clearly understood our TOEFL training in Ahmedabad highlights including topics covered, syllabus, training methodology etc. Choose our TOEFL coaching institute in Ahmedabad to get your study abroad dream fulfilled.
What is TOEFL?
Test of English as a Foreign Language or, popularly, TOEFL is one of the popular English language proficiency tests. If you wish to study abroad for higher education in an English-speaking country like the USA, Canada, Australia, etc., you must have a good TOEFL score. TOEFL scores are accepted in more than 150 countries and 11,000 universities and grad schools around the world.
Format of the TOEFL test
The TOEFL test doesn't involve any types or format, it contains four sections (Listening, reading, writing, speaking). All four of these skills test the students' ability to do the classes abroad. All of these sections come with the combination of performing the skills. Read and write. Listen and speak, read, listen and speak and so on.
Who can do this TOEFL Course in Ahmedabad?
Are you aspiring to do your international education in popular study destinations? Then do our TOEFL course in Ahmedabad to do your studies in countries such as the US, UK, Canada, Australia, etc. Our experts will help you till you land in the country and take up your education.
What is the eligibility or prerequisite to join our TOEFL Institute in Ahmedabad?
Knowing the eligibility or prerequisites of the TOEFL exam before joining TOEFL institute in Ahmedabad is needed. Institutes like Kanan International give you free counseling and help you with all aspects to make everything easier for you. Let's get into the eligibility of the TOEFL exam:
To write the TOEFL exam candidates need to complete their 10th, 12th studies in a recognized institute with an expected academic score.

The TOEFL exam doesn't come with an age criteria. However, it's required to fulfil the age of 17 or 18 years to do the exam.

It's necessary to have a valid and original identity proof which has your name, photograph and signature while appearing and registering for the exam.

It's essential to have a valid government issued passport with no complaints or criminal records.

While retaking the TOEFL exam, check whether you've a gap of 3 days between the exams you appear.
If you've these requirements fulfilled, don't hesitate to join our TOEFL institute in Ahmedabad to take our coaching and get high scores in the exam.
TOEFL Training with Spoken English classes
There are many Spoken English classes taking place nearby your cities. But before taking those classes you need to know the purpose to join because it only moves you forward to achieve your goal. Students who are aspiring to do their studies abroad will surely need to take the spoken English classes conducted by the experts. As we are specialized in all the study abroad courses, we make sure students don't lose their confidence while interacting with the native people which makes us provide TOEFL training with spoken English classes.
Batch size for TOEFL Training in Ahmedabad
Our TOEFL training in Ahmedabad doesn't carry many students in any of our batches. We fill all our batches with students limited to 10.

We conduct weekdays, weekend, offline, online, fast track, customized batches at our TOEFL training in Ahmedabad.

Even though we follow the updated syllabus for all of our classes, our teaching style, test pattern, and preparing students vary for batches to analyze the students better.

Personalized training is given for each student in each of our batches as that makes our trainers figure out our students' skills better and train them accordingly.

We never fail to offer study resources, practice and mock tests, study abroad information, doubt clearing sessions, etc for all our batch students.
Coaching modes for TOEFL Ahmedabad preparation batches
Online coaching class for TOEFL: With the changing trend, considering the students' convenience, time constraints, and giving room for other skills/courses/projects, all of our centres take online live classes for TOEFL to make them prepare for the exam without missing out anything.

Offline coaching class for TOEFL: At Kanan International we also conduct offline/ classroom coaching for students' who want the attention, insights and connect from the trainers directly. Join us to score high!
Have queries regarding TOEFL dates in Ahmedabad or TOEFL Ahmedabad centre or TOEFL fees in Ahmedabad or TOEFL coaching classes in Ahmedabad?
Students' who are planning to study abroad in countries such as the US, UK, Canada, Australia, etc, don't have to worry about the source of getting valuable and updated information about international education. As Kanan International has been in the industry for 25 years we offer free counselling for students who reach us to clear all their queries.
Students can also reach us by our social media platform and ask their questions by using the hashtags #TOEFLClassesin Ahmedabad or #TOEFLprepwithKanan. Get in touch with us to solve all your queries!
Reviews
Our students who are proud of their achievements, eventually become our brand ambassadors. We're indebted to them.
Krishna
"Kanan International is one of the best for IELTS trainings. The instructors are wonderful and helpful people. i got a 7.0+ and i am very happy about it. "
Aayush Patel
Mechanical Engg Tech, Sheridan College
"The finest quality of Kanan International is that they have dedicated departments for every service. As a student, I had no difficulty following the procedures. Kanan took care of everything from the start, from documentation to booking flight tickets."
Arti Makwana
Chemical Lab Analysis, Lambton College
"Kanan helped me with everything from documentation to visa arrival and even air tickets, ensuring that my dream was accomplished without any hassle. I've already recommended Kanan to a number of my friends and encouraged them to move abroad."
Rucha Patel
Business Analytics, Seneca College
"I will be joining Seneca College from January 2022. I was confused about choosing college and course. But my counsellor helped me out and not only Seneca but I got offer letter from all of the four reputed colleges in which I had applied. Apart from admission, they guided me in visa process as well"
Krishna
"Kanan International is one of the best for IELTS trainings. The instructors are wonderful and helpful people. i got a 7.0+ and i am very happy about it. "
Aayush Patel
Mechanical Engg Tech, Sheridan College
"The finest quality of Kanan International is that they have dedicated departments for every service. As a student, I had no difficulty following the procedures. Kanan took care of everything from the start, from documentation to booking flight tickets."
Certification
Students can get TOEFL course completion certificates from Kanan International TOEFL institute by attending regular daily classes, practice tests, mock tests, performance review sessions, study abroad consultation sessions, and get the desired score in our tests. This certificate will help you to show your ability in work or any other areas but not to get admissions in the abroad universities.
TOEFL Training in Ahmedabad
Kanan International TOEFL training in Ahmedabad is different from many other institutes over there. We properly curate our study resources, class pattern, test format based on our experience and with our students' feedback. Our training involves taking classes that covers the syllabus and the study abroad information, trends and others to make students' aware of, make interaction regarding their interest of international education, doubt clearing session until we clear each ones doubts, tests to improve in each areas, study resource and access to prep portal to make them prepare at home or at last-minute of exam. Take action and enroll in our training!
Top scores from our TOEFL coaching in Ahmedabad
Our alumni success speaks for our TOEFL course pedagogy and methodology. In the last eight years, the average TOEFL score of our students from Ahmedabad centre is 90 to 100. This excellent past result is what makes us a trusted name among the student community in Ahmedabad. Don't miss out on the opportunity to achieve your study abroad dream with a high score!
10000+
no of students in last 5 years
English Coaching for PTE, TOEFL, GMAT, GRE, AND IELTS
Are you looking to study abroad? How well would your language skills be? To do your studies abroad it is not only limited to taking coaching for the particular courses and scoring high and getting admissions, it also includes other aspects. Kanan International not only trains you to appear for the exam but also to communicate confidently in the environment you're about to live in. English coaching will be conducted for the courses such as PTE, TOEFL, GMAT, GRE, and IELTS.
Online TOEFL Training in Ahmedabad
Our online TOEFL training in Ahmedabad carries live interaction classes, expert trainer guidance, individual attention, study materials, class recordings, doubt clearing session, access to a portal for prep, practice and mock test, and performance evaluation which makes students' do their preparation with ease in even lesser time.
TOEFL Coaching for Beginners, Intermediates, and Advanced levels
Students' who are wishing to do their international education never have to worry about their skillset and language ability and can join our institute. After analysing your interest and giving a consultation about the study abroad and about our training insights, we conduct a mock test to know your ability. After examining your level of proficiency we provide personalized attention for students and make them improve in all areas.
TOEFL Coaching for Study Abroad
Students who are getting trained for the TOEFL exam at Kanan International can get support for the exam registration, university and course selection, application and admission process, travel, accommodation, ticket arrangement, forex services, sim card, loan, etc to achieve their dream with less effort.
TOEFL doubt clearing sessions and coaching discussions in Ahmedabad
In our classes you can feel free to ask your queries as our trainers are more friendly and approachable. All our TOEFL class sessions will end with discussions and doubt clearing sessions where we will clear every doubt of each and every batch of students. We conduct regular practice and mock tests to improve and analyze students' performance. Our practice tests involve answering particular sections/tasks and our mock test involves the entire pattern of the exam. To make students clear with each mistake and errors they make, we conduct a session after our tests. Join our institute and be in the top score list!
Everything you need to know about TOEFL Coaching in Ahmedabad
The maximum TOEFL score is 120.

The TOEFL exam fee in India is USD 185 or approximately INR 13,000.

The TOEFL exam duration is 3 Hours.

Check the ETS website regularly for updates about exam dates and nearby TOEFL test centers.

Besides coaching classes, you can get quality TOEFL tutorials in Ahmedabad by experts, English language enthusiasts, and student bloggers in your own Gujarati language.

You can follow vlogs about TOEFL from students who completed it recently via TOEFL YouTube channels, apart from receiving TOEFL tutorials in Ahmedabad.
A TOEFL score is valid for two years.

There is no limit to attempting the TOEFL exam. You can write it any number of times with a three-day gap.

Eligibility for writing the TOEFL exam is a pass in 10+2 from any recognized Indian board of examination.

80 - 90 is considered a good score in the TOEFL exam. But Kanan International's TOEFL students have an average score of more than 100.

The TOEFL exam is conducted throughout the year. It is not restricted to a season or a period.
Tips to secure top score in TOEFL
Taking proper TOEFL Training in Ahmedabad is much better than your self-preparation for such an important exam in your career. It is true from multiple aspects like competitive environment, peer learning, expert guidance, quality study materials, extensive preparation, etc.

Make time for each section, parts, tasks, question types of the TOEFL exam while preparing your study plan.

Have a goal in place, know the university you want to enter in, what are the score requirements they ask for, and plan accordingly.

Concentrate on your minor spelling mistakes, grammatical mistakes, typing errors, as this can make the meaning of the words worse.

You've to work on your time management skills which can help to utilize your time for preparation and also to finish the exam by answering maximum questions within the allotted time.
To perform the reading and listening task you've to be good enough in taking notes. As this plays a crucial role in presenting the desired answer in the right manner.

Have some time to improve your typing skills, the faster and the proper answer you type for the known questions can save much time and thus help with the unfamiliar and difficult questions.

Make a practice of learning some new words, synonyms, similar phrases, etc to improve your language.

Ensure you follow the right syllabus, study materials, practice papers, as these are the key players of your preparation plan.

Get help from the expert trainers to make the preparation easier with their tips, techniques, shortcuts and others. Join Kanan International!
Reach our TOEFL Coaching Center in Ahmedabad
Kanan International TOEFL Coaching Center location is nearer to major localities in Ahmedabad like Maninagar, Navrangpura, Prahlad Nagar, Satellite, Memnagar, CG road, Ambawadi, Bapunagar, Science City, Chandkheda, Naranpura, Gota, etc.
Address of our TOEFL Coaching Center in Ahmedabad
443, 4th Floor,
Titanium City Center Mall,
Prahlad Nagar Rd,
Satellite, Ahmedabad,
Gujarat-380015, India
Working hours : 09:00 am – 09:30 pm
FAQ - TOEFL Coaching in Ahmedabad
A truly global higher education partner to learners and education institutions Support learners at every point in their global education journey with reliable services, products and solutions.
Global Headquarters
Kanan Int EdTech Inc
229, Yonge Street Suite 406 Toronto Ontario, Canada M5B 1N9
Indian Headquarters
Kanan International Pvt. Ltd.
D-wing, 2nd Floor, Trident Complex, Ellora Park Vadiwadi Road, Vadodara, Gujarat 390007
IT/ Digital Campus
Chennai Office
132, Habibullah Rd, Satyamurthy Nagar, T. Nagar, Chennai, Tamil Nadu 600017
Copyright © 2023 KANAN.CO All rights reserved.