GRE Coaching in Vapi
The Graduate Record Examination, is a standardized exam for the students who are willing to pursue their master's and doctoral degrees in some of the English-speaking countries like Canada and the USA. Kanan's GRE coaching in Vapi is providing eminent coaching for the students who want to start their GRE preparation. The exam is conducted by the ETS board and the syllabus is also formulated by them.
Kanan also conducts coaching classes for other entrance exams like IELTS, GMAT, TOEFL, SAT, etc. All these courses and GRE coaching in Vapi are provided with free study materials and faculties who have several years of experience in this field. The faculties keep updating themselves according to the latest syllabus and the training for students will be offered based on the updated curriculum.
What is the Syllabus for the GRE course in Vapi?
Kanan GRE course in Vapi will cover the GRE syllabus as prescribed by ETS. Our instructors will walk you through overall GRE modules, including quantitative and verbal reasoning, as well as analytical writing. These are the three sections that assess your abilities based on the answers and solutions you provide. Check the syllabus of the GRE exam below.
GRE Analytical Writing
The GRE analytical writing tests the student's ability to articulate complex ideas clearly and effectively, support ideas with relevant reasons and examples, examine claims and accompanying evidence, sustain a well-focused, coherent discussion, and control the elements of standard written English. There are two writing tasks in the analytical section, with an allotted time of thirty minutes for each.
GRE Verbal Reasoning
The verbal reasoning section tests the student's ability to analyze and draw conclusions from discourse, reason from incomplete data, identify the author's assumptions and perspective, understand multiple levels of meaning, such as literal, figurative, and author's intent. At Kanan, candidates are effectively trained to clear the section.
GRE Quantitative Reasoning
The quantitative reasoning section tests the student's ability to understand, interpret and evaluate quantitative information, solve problems using mathematical models, apply basic skills and elementary concepts of arithmetic, algebra, geometry, and data analysis. The quantitative reasoning section has two parts with twenty questions each. Some of the topics are simple and compound interest, permutation and combination, linear equations, speed, distance, time, powers and roots, etc.
Our GRE course in Vapi, is one of the best coaching programs in the city as we offer an assured training program that helps the students to score high in their first attempt. Enroll with us now to develop your technical skills to crack the GRE exam.
What are the upcoming batches, schedules, timings, duration, course fees of the best GRE coaching center in Vapi?
Kanan GRE coaching center in Vapi conducts classes on weekdays and weekends. Everyone can take advantage of our fast-track batches. If you need more flexibility in your schedule, our trainers can accommodate you in the rolling batches. Our instructors are all very good at dealing with pupils from different areas of life. The cost of our GRE course in Vapi is INR 25,000, which is a very reasonable price.
| GRE Batch in Vapi | Batch starts on | Timing | Duration of the course | Availability |
| --- | --- | --- | --- | --- |
| Weekdays regular | 30 May 2022 | Flexible Timing between 9.30 AM - 8.30 PM | 60 hours | |
| Weekdays morning | 31 May 2022 | 9.30 AM - 8.30 PM | 60 hours | |
| Weekdays evening | 3 Jun 2022 | 9.30 AM - 8.30 PM | 60 hours | |
| Weekends | 6 Jun 2022 | 9.30 AM - 8.30 PM | 60 hours | |
| Online batch | 8 Jun 2022 | 9.30 AM - 8.30 PM | 60 hours | |
| Fast-track batch | 8 Jun 2022 | 9.30 AM - 8.30 PM | 60 hours | |
GRE Batch in Vapi
Batch starts on
Timing
GRE course fees in Vapi
Duration of the course
Availability
Weekdays regular
30 May 2022
9.30 AM - 8.30 PM
60 hours
Weekdays morning
31 May 2022
9.30 AM - 8.30 PM
60 hours
Weekdays evening
3 Jun 2022
9.30 AM - 8.30 PM
60 hours
Weekends
6 Jun 2022
9.30 AM - 8.30 PM
60 hours
Online batch
8 Jun 2022
9.30 AM - 8.30 PM
60 hours
Fast-track batch
8 Jun 2022
9.30 AM - 8.30 PM
60 hours
Students can also prefer personalized batch timings if they are not comfortable with the batches and sessions mentioned above. The GRE coaching center in Vapi provides enough flexibility to the students to learn according to their comfort level.
Who will train you?
What is the coach/Trainer profile for GRE classes in Vapi?
Kanan International is offering a GRE course in Vapi for all the candidates who are looking for reliable classes that are able to bring out their technical skills. By engaging with us the candidates can grab the opportunity to learn under the trained and experienced faculties.
All tutors in our GRE classes in Vapi have over 7 years of experience teaching students from different backgrounds.
Besides having GRE trainers, we have dedicated English language trainers who will be assisting you in enhancing your english skills.
We have separate trailers for both the GRE modules, GRE general and GRE subject exams.
Trainers for our GRE class in Vapi are experts in verbal, Quants, Technical, communication modules, etc with degrees from top Indian universities.
Our trainers conduct numerous practice tests to examine your skill level and thus your training schedules will be allocated based on your performance. This helps us in giving individualized training to our students.
The trainers will give you regular feedback. This helps you achieve a high score because you'll become well-versed with the fundamentals of the test patterns.
Our trainers also organize fast-track batches and help with assisting students coming in for last-minute training.
10 Reasons why you should Enroll for GRE training in Vapi at Kanan International
Kanan offers the best GRE training in Vapi, with a lot of additional benefits that aid the students in scoring high in their first attempt. Thus, enrolling for the GRE class with Kanan will help you in achieving admissions in your dream university. The features that make our institution unique are mentioned below.
Our GRE training in Vapi comes with state-of-the-art smart classrooms, with a good learning environment.
Our computer labs and e-libraries are equipped with good infrastructure and the latest study materials.
When you register at Kanan for any coaching classes, including GRE training, you can choose a flexible slot.
At Kanan International, we offer GRE training in Vapi in the following areas - analytical writing, quantitative reasoning, and verbal reasoning. This ensures that you can score a high percentile.
The test is structured covering all aspects of the kind of knowledge that most graduate business and law programs require.
Our GRE classes are available at an affordable price of INR 25,000.
Our GRE trainers will take you through all the essential topics and help you better yourself with practical tips and advice.
You can choose from weekday (regular, morning, and evening) and weekend classes and fast-track batches for the GRE training.
All our mock tests are aligned with each student's level of understanding, i.e., easy, medium, and difficult levels.
Our trainers for GRE training in Vapi offer one-on-one assistance to you. That's why we keep our batch size small to give you an opportunity for direct interaction with the faculty.
These are some of the important benefits you will gain by joining our GRE training in Vapi. There is an assurance that you will ace your exams with the best score after joining our GRE coaching center in Vapi.
What is GRE?
The Graduate Record Examinations, owned and managed by ETS, is a standardized exam for admissions into the leading business and law schools overseas. The test is accepted by over 1200 universities and colleges around the world. Therefore, study abroad aspirants who want to get admissions into leading graduate business schools have to appear for the GRE exam. Kanan has taken the initiative to guide the students in preparing for the GRE exam through extensive training sessions.
Format of the GRE Test
The test is structured into GRE general and subject tests. There are two modes of GRE exams: computer-based and paper-based. The three major sections of the GRE test are analytical writing, verbal reasoning, and quantitative reasoning. The test has a total score of 340 points. Three hours and 45 minutes are allotted for the examination. You will receive your results 10-15 days after the exam date.
Who can do this GRE course in Vapi?
Students seeking admission to master's programs overseas take the General exam, which requires a bachelor's degree. The topic test, on the other hand, is required to demonstrate your knowledge or skill in certain disciplines.The GRE course in Vapi provides ample opportunities to the students to enrich their knowledge for cracking the exam.
What is the eligibility or prerequisite to joining our GRE institute in Vapi?
Kanan GRE institute in Vapi is one of the most trusted GRE coaching academy by the students as we are able to produce outstanding results. To register for the GRE class in our institution the student have to possess the following eligibility criteria,
The GRE exam is for postgraduate admission. Thus the student must have completed their graduate degree with eligibility scores.
There is no particular age limit set for attending the examination. The students who are more than 18 years of age are eligible.
The candidates must be clear about the GRE exam format they are going to attend.
The student must have all the identification cards valid and updated.
The candidate must be able to produce their education qualification documents, financial proof, etc.
The GRE institute in Vapi is aimed at providing the best training for all the students enrolled. Thus you can join our GRE coaching class to score high in the first attempt. We also offer admission guidance for the candidates to get placed in their dream universities.
GRE Training with Spoken English classes
Students aiming for GRE exams which are valid for English-speaking countries should have minimum communication skills in order to face their insecurities and language barriers. The GRE course in Vapi develops the student's spoken English skills along the GRE course. In this way, the students are able to overcome their fear as they are able to communicate clearly and fluently. Eg. A student trained in spoken English can easily clear their doubts and queries from the professors in the college they are studying.
Batch Size for GRE Training in Vapi
Every batch size in the GRE training in Vapi is limited to 10 students per batch.
By reducing the batch size, the students are able to gain individual attention from the trainers.
Every batch and session is conducted by following the Covid-19 measures. Every center of Kanan follows Covid-19 measures.
There will be doubt clearing sessions at the end of every batch. The trainers provide the students with ample alternatives.
Students are allowed to customize their batch timings for GRE training in Vapi by contacting our expert team in our institution.
Coaching modes for GRE preparation batches
Offline (classroom) GRE coaching sessions:The GRE coaching in Vapi has the best study environment for the students who are willing to opt for traditional classes.
Online GRE coaching sessions: The students who are unable to attend the GRE courses in Vapi, can apply for the online courses by referring to the Kanan Website.
Have queries regarding GRE dates in Vapi or GRE Vapi center or GRE fees in Vapi or GRE coaching classes in Vapi?
Since GRE is an in-depth subject, you may have a lot of queries and doubts regarding the course, session, batches, etc. In any way you feel those, do not hesitate to contact the Kanan team or the GRE coaching classes in Vapi. The Kanan team is glad in solving all your queries and doubts.
You can also clear your doubts and queries by using the hashtags such as #GREclassesinVapi, #GREprepwithVapi. These hashtags help you in clearing all your doubts and queries regarding the class and course.
Reviews
Our students who are proud of their achievements, eventually become our brand ambassadors. We're indebted to them.
I'm Hiral Mehta. I completed my MBA in 2013. I've decided to study in Canada. Having a 8 years study gap I've hesitated to start. Then, I approached Kanan International team Vapi. To my surprise they explained each step clearly, guided me well and have made the process easier. Finally I got my Canada student visa. I'm really thankful to their team.
Shreyank - student of Kanan International Vapi. I've scored band 7 in IELTS with the help of the trainer. The trainer was friendly and explained the details greatly. The classes were good. They provide study materials, portal access and other guidance also. Overall great experience to prepare for IELTS with them.
I'm Sohil Parmar. I got 7 band score in IELTS exam by taking the Kanan International Vapi fast track course. They made me clear with each section, they don't compensate on the quality of training. I got personalised attention from the trainer. I didn't expect, I could score well with just 15 days of training. Thanks to the trainer.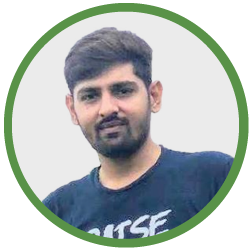 Certification
The Kanan team of Vapi offers each student a GRE course completion certificate when they have completed all of the mock tests, sample questions, and answers. This certificate will be given to you at the end of the course if you have completed all of the key exercises in analytical writing, verbal reasoning, and quantitative reasoning. This certificate boosts your self-esteem and allows you to do well on examinations.
GRE General training in Vapi
The GRE general test is the most commonly opted test by the universities. In our GRE training in Vapi, our faculties offer training to the students to help them enhance their skills in all the sections. Candidates are given adequate practice to face all the question types in the given time limit. The GRE exam attempts are less compared to other competitive exams. Thus the students are given coaching to score high in their first attempt.
GRE Subject training in Vapi
The GRE subject test is used to test the candidate's particular knowledge. At Kanan International GRE subject training in Vapi has separate faculties for handling the subject test training. These faculties are subject experts who are capable of conducting classes in both online and offline mode. The study materials offered will be having the topics covered in the ETS syllabus.
Top scores from our GRE coaching in Vapi
The students who have trained from the GRE courses provided by Kanan international have scored the best marks in the country. Almost 100% of the students have surpassed their GRE exams. Our students have averaged a verbal score of 160 during the last five years. The marks are 162 in quantitative reasoning and 5 in analytical writing. The coaching here in Kanan benefitted the students to score decent marks and get admission to prestigious colleges around Canada and the USA.
10000+
no of students in last 5 years
English coaching for TOEFL, GMAT, GRE and IELTS
It is a well known fact that a good command over the language is required for clearing all the competitive exams including GRE, SAT, TOEFL, IELTS, etc. Considering this, our GRE training in Vapi is conducted along with exclusive sessions for English skill improvement. The students English skills will be enriched through regular reading, writing and speaking practices.
Online GRE training in Vapi
The candidates who are trying to save their travel time by opting for home GRE preparation can take our online GRE training in Vapi. Our online training is conducted as a live session where the students can interact with the faculties and get their doubts cleared. Our online class will also have all the training processes the same as the offline class. The practice tests and the mock tests are very helpful for the students in their preparation. The class recordings will be available in the web portal for the students' preparation reference.
GRE coaching for Beginners, Intermediate, and Advanced levels
The GRE coaching in Vapi has an excellent set of certified trainers who are capable of comprehending the student's mentality by knowing the what level the student is ready for the exam. By knowing that, the coaching is conducted for the students according to their expectations. Trainers here in Vapi educate the students with the best study materials and also give them individual attention to develop their knowledge in the exam.
GRE Coaching for Study Abroad - General and Subject training
The GRE course in Vapi aims in making every student achieve their expectations. So, the trainers and the consultants guide the students with study abroad facilities such as visa assistance, applications, etc. The ICCRC license proves that we are well-versed in training the students for both general and subject-based coaching in the GRE exam. Kanan International has helped more than 50,000 students dream to study abroad in the past 24 years. The Years of experience we have in this field have developed us in helping more and more students in a year. We have tie-ups with more than 250+ universities and colleges around the world.
GRE Doubt Clearing sessions and Coaching discussions in Vapi
At the end of each session, Kanan's trainers conduct separate doubt-clearing sessions and discussions about the classes. This allows students to prepare for exams with a clear mind. Kanan's professors not only answer the students queries and clarify topics, but they also provide alternate solutions to students who are struggling with their academics. During this sessions, the students can also clarify their doubts regarding the international education trends and the details about the various courses and universities.
Everything you need to know about GRE Coaching in Vapi
Eligibility - Undergraduate Degree is the minimum qualification required for registration of the exam.
Registration fee - The registration fee for IELTS is around 15,800 INR.
Exam dates - You can take the GRE exam whenever you want, there are no specific dates. You can refer to the ETS websites for more information about the exam.
Exam duration - The total exam duration is around three hours and 45 minutes.
Exam retakes - You can repeat the exam five times in a year. If you take the exam and are dissatisfied with your results, you can retake it after 21 days.
Tips to score higher marks in the GRE test
Be aware of the GRE format - The GRE exam lasts for 3 hrs and 45 mins. It has 6 sections, that is, analytical writing, followed by 2 verbal reasoning and 2 quantitative reasoning sections, and finally an unscored section.
Know the sections important for you - For GRE test-takers, the Quant score and Verbal score are important when looking for science and humanities fields, respectively. Therefore, you must know which score is more crucial for you depending on the school or the field you are getting admissions into.
Create a study plan - Be it any exam, it's always useful to create a study plan. Once you figure out how many hours you need to put in for your GRE prep, you can create a study plan.
Practice GRE mocks - The advantage of enrolling with Kanan is that you get access to KananPREP, which is a customized platform for all your exam preparation needs. We help students with IELTS, TOEFL, GRE, GMAT, and SAT coaching. Our trainers offer plenty of mock tests to help you familiarize yourself with the actual test patterns.
Cross-verify your answers - After each mock test that you take, you must cross-check your answers. This helps you figure out your doubts, which you can ask our trainers. We conduct separate doubt clearing sessions to address your weak areas and also organize additional classes for you.
Be aware of the time - Don't focus too much on questions that you find difficult to answer. You may run out of time if you do that. Try to time yourself while answering all questions or each section that you attempt.
Read different types of content - The easiest way to improve your vocabulary and reading ability is to read every day. Read books, newspapers, articles online, and anything that you come across. But make sure you read good quality content. Try to ask yourself if you get the idea of the content after reading it.
Know the Math - GRE doesn't test how good you're in calculus, rather it tests your basic math skills in algebra, geometry, arithmetic, and data analysis. It's not meant for showing any high-level mathematics knowledge. So make sure you are strong with the fundamentals of the high-school math that you studied.
Effectively use the calculator - Since time is key, you must ensure that you don't end up using the calculator for simple calculations like addition or subtraction. Try to use the calculator as minimally as possible.
Choose your study materials wisely - It's not a wise idea to lay your hands on whichever GRE study material you come across. Try and choose good-quality study materials, particularly ETS resources. The advantage of registering for GRE classes at Kanan is you get to study all the updated materials on GRE.
Reach our GRE Coaching Center in Vapi
Kanan International GRE Coaching Center in Vapi is located from the places such as Daman, Amli, Silvassa, Pardi, Parnera, Valsad, Dharampur, Bilimora, etc. Don't hesitate to reach us, as it takes some less time to visit.
Address of our GRE Coaching Center in Vapi
101-3 V2 Signature, Daman Rd,
opp. PMC Bank, Chala,
Vapi, Gujarat 396191
Working hours :
09:00 am - 07:00 pm
FAQ - GRE coaching in Vapi
How to register for GRE classes in Vapi?
To book the classes in Vapi, you can refer to the website of Kanan International and also can talk with advisors of Kanan for booking your slot.
Which is the best time to take the GRE exams?
There is no such ideal time to take the GRE exams. Anyway, it will be helpful if you choose to take the exam three months before the college application process.
The verbal reasoning portion is graded on a range of 130–170, with 1 point increments; the quantitative reasoning component is graded on a scale of 130–170, with 1 point increments; and the analytical writing section is graded on a scale of 0–6, with half-point increments.
How can I view my GRE score?
The test result arrives within 10 to 15 days after you give your exam. The ETS will mail the test results to the mail id you have given them during the time of the test. The GRE subject test results take time till 5 weeks after you give the test.
Will it be easy for me to travel to the offline classes if the classes are located in Vapi?
We offer GRE coaching from the important place of Vapi. But, it will be easy for you to travel and attend the classes if you are located in places such as Silvassa, Daman, Dharampur, Bilimora, etc. Refer to the Vapi address of Kanan and check if you can travel to the classes.