SAT Coaching in Navsari
Kanan International is one of the reliable institutes for SAT coaching in Navsari. Through our vast experience in this training industry, we assist the students in all aspects of SAT learning. The expert SAT trainers in our academy are well experienced to tutor the students and help them to score good in the SAT exam. The SAT exam is written for getting undergraduate admissions in the international universities of US, UK, Canada, etc. The exam is conducted by ETS in India.
Along with SAT coaching classes in Navsari, we also conduct coaching for other admission exams including GRE, GMAT, IELTS. The quality of the study material is upto the mark and highly reliable to score high in SAT exam. Please know that in the SAT exam, mathematics is included. If you find difficulty in studying the subject alone then you can very well enrol in our SAT coaching in Navsari. The SAT study material in our centre is prepared with easy-to-follow lessons. Keeping the students' perspective in mind, our SAT trainers involved themselves in spending time and energy to prepare the material to enhance the SAT students' knowledge. In Kanan International, we periodically conduct mock tests to boost confidence among SAT learners.
What is the syllabus for the SAT course in Navsari?
Students who are new to SAT exams may have doubts about the latest SAT syllabus prescribed by the ETS. However, you can get a clear picture about the latest SAT syllabus in our academy. The SAT tutors in Kanan International will adhere to the updated SAT syllabus and coach the students based on it in our SAT course in Navsari. The College Board will set the SAT exam pattern every year. Through the below given details, you can know about the latest syllabus followed by the SAT course in Navsari.
Mathematics section:
Most of the maths questions come with multiple choice answers to choose from. However, the remaining are grid-ins. To be more specific, in 58 questions (totally) 38 questions can be handled using a calculator. From this (using calculator), 30 are multiple choice questions and 8 are grid-ins. Math SAT exam contains 20 questions that must be done without a calculator. Five questions are grid-ins and 15 questions are multiple choice answers.
Reading section:
Total of five reading passages will be given. One from American or World Fiction, one from Global or American Documents, one from sociology or psychology or economics and 2 from Science Works. Kanan International students gets the opportunity to prepare for the exam using the AI powered prep portal.
Writing and Language Section:
The four passages can be expected from career, history, science, social science. You must read and edit the passage. The written passage can be in narrative mode or explanatory mode. Regular practice and mock tests will be conducted to improve the students language skills and will be trained to complete the exam with full preparation.
Essay section:
The essay section will be an optional section which can be written based on the candidate's interest. The SAT essay section will be given 50 minutes time at the end of the exam and it will be an unscored section. At Kanan, coaching will be provided to the candidates to face this section also.
The SAT classes in Navsari will help you to learn all these sections of the SAT exam effortlessly. Through this, you can write the exam perfectly within the specified duration. Our SAT course in Navsari has existed for more than 25 years and has trained more than 1 lakh students to achieve their abroad education dream.
What are the upcoming batches, schedules, timings, duration, course fees of the best SAT coaching center in Navsari?
One batch with only one timing for SAT coaching will not benefit all the SAT students. We understand that and keeping the flexibility of our SAT learners, Kanan International offers flexible SAT coaching. The fee structure at our SAT coaching centre in Navsari is also highly affordable. The coaching fee for SAT is just INR 25,000.
| SAT Batch in Navsari | Batch starts on | Timing | Duration of the course | Availability |
| --- | --- | --- | --- | --- |
| Weekdays regular | 27 Jun 2022 | Flexible Timing between 9.30 AM - 8.30 PM | 60 hours | |
| Weekdays morning | 28 Jun 2022 | 9.30 AM - 8.30 PM | 60 hours | |
| Weekdays evening | 1 Jul 2022 | 9.30 AM - 8.30 PM | 60 hours | |
| Weekends | 4 Jul 2022 | 9.30 AM - 8.30 PM | 60 hours | |
| Online batch | 6 Jul 2022 | 9.30 AM - 8.30 PM | 60 hours | |
| Fast-track batch | 6 Jul 2022 | 9.30 AM - 8.30 PM | 60 hours | |
SAT Batch in Navsari
Batch starts on
Timing
SAT course fees in Navsari
Duration of the course
Availability
Weekdays regular
27 Jun 2022
9.30 AM - 8.30 PM
60 hours
Weekdays morning
28 Jun 2022
9.30 AM - 8.30 PM
60 hours
Weekdays evening
1 Jul 2022
9.30 AM - 8.30 PM
60 hours
Weekends
4 Jul 2022
9.30 AM - 8.30 PM
60 hours
Online batch
6 Jul 2022
9.30 AM - 8.30 PM
60 hours
Fast-track batch
6 Jul 2022
9.30 AM - 8.30 PM
60 hours
The SAT coaching centre in Navsari offers flexible training sessions for the aspirants. If the candidates are not comfortable with the fixed timing, they can opt for the customised branches by discussing with our expert team.
Who will Train You?
What is the Coach / Trainer Profile of SAT classes in Navsari?
You can score better if you practice the SAT according to the latest pattern. In Kanan international, the SAT trainers will guide the students according to previous year SAT exam patterns. By doing so, you can easily practice to finish the SAT exam successfully within the stipulated time.
The SAT instructors in Kanan International are highly dedicated, well experienced and certified to coach for the SAT exam.
The trainers will not limit themselves by just taking the SAT classes in Navsari. However, they also provide personalised attention over all SAT learners.
The SAT trainers in our academy are friendly. And so, you can ask doubts and clarify it with ease. Our doubt-clearing sessions are highly beneficial for all our SAT students.
Do you think that getting a good score on the SAT is highly possible? Then you need not worry anymore. Here, our trainers will have a perfect study plan. And they teach the SAT syllabus using simple, clear methods.
For clearing the maths section in the SAT exam, you need to focus strongly on calculations, algebra, analytics etc. Our SAT instructors are good in making you understand those concepts.
You must know the areas of improvement. For some students, maths would be a problem and for some, the reading section of the SAT exam would be of great difficulty. Our SAT mentors will speak to you about your areas of improvement in detail. And so, it will be easy for you to concentrate on it further.
Our trainers are good at teaching vocabulary. Our SAT class in Navsari holds the best classes for teaching English vocabulary. Through this, you can face the SAT reading section effortlessly.
10 reasons why you should enrol for SAT training in Navsari at Kanan International
With a number of SAT training institutes existing in the city, our SAT training in Navsari is considered as one of the leading institutes to offer assured coaching. The reason for being the top institute is listed below.
You can get personalised attention and customised SAT training in Kanan International. Do you wonder how? Each student has different areas of improvement. One may want special care to improve vocabulary whereas others may struggle in maths. So, our SAT training centre in Navsari will provide coaching to the students accordingly.
Learn SAT in a motivational environment where many other students (like you) are getting trained.
This is one of the best opportunities to enter into universities abroad, though you didn't pursue a good score in high school. Enrol with us and learn SAT professionally.
Certified SAT instructors to give complete guidance and train students for the SAT exam.
Affordable fee structure. This is also another important point to note.
Get instant access to standardised study materials, professional SAT coaching, best classroom environment, technical tips, doubt clearing sessions by joining SAT course in Kanan International.
You have already attended the SAT exam but if your score is lessCertified SAT instructors to give complete guidance and train students for the SAT exam.
Apart from SAT coaching, we also provide assistance for college admissions through the tie-ups with many universities abroad.
Similarly, we also guide you through the visa application process. Our goal is not just to make students get good SAT scores but it also extends to further procedures.
Our SAT instructors have a teaching plan and they conduct tests frequently. And so, students can get confidence for facing the SAT exam.
These points would showcase why we are the best SAT training institute in Navsari. Join us now for the exclusive SAT training in Navsari and start your education career with us.
What is SAT?
As competition is rapidly growing high for admissions in abroad colleges, the entrance test is mandatory. SAT is one such standardised entrance exam through which the colleges can know about your readiness to join them. Putting it in simple terms, if you have a good SAT score then you have wide options for college admissions and also for college fee reduction. Kanan International is offering comprehensive SAT training for the candidates who are aspiring for getting admissions in the international university.
Format of the SAT test
The SAT general exam consists of three mandatory sections and one optional section to complete. The three compulsory sections are maths, reading and writing. And the essay section is optional. The Maths SAT paper contains 58 questions that must be solved within 80 minutes. The reading section for 65 minutes with 52 questions. Finally, the writing section contains 44 questions to be finished within 35 minutes. The SAT training in Kanan ensures that the overall syllabus is covered in our training session.
Who can do this SAT course in Navsari?
Aspirants aiming for studying in the international universities can appear for the SAT exam as it is one of the filtering criteria set by the universities. Register with us today to get admission in the top universities of the globe.
What is the eligibility or prerequisite to joining our SAT institute in Navsari?
Kanan SAT coaching is offered to guide the students score high in their first attempt. As we are the best SAT institute in Navsari, we have set a few eligibility criteria for the candidates to join our coaching classes.
We offer free fresher classes for SAT exams for the students who are retaking their SAT exam to improve their scores.
We also take extra classes for students to clear their doubts and to conduct additional tests.
For a few selected students, we conduct special classes as part of our SAT coaching to address their weaknesses.
There is no age limit set for the candidates, however the students must be at least 16 years old to get admission in the university courses.
The students with any education background can join our coaching class. Backlog numbers will depend on the candidate's course and university choice.
Never hesitate to join our SAT institutes in Navsari. Our SAT coaching class comes with additional benefits such as, spoken english class, english vocabulary improvement, admission guidance, etc.
SAT training with Spoken English classes
There is a huge difference between an English conversation and the English that are taught in our classrooms. But for SAT exams, conversational English is significant. Through our SAT reading practice classes, you can master English learning through conversation. Kanan International offers SAT training along with the Spoken English Classes for enhancing the students confidence while speaking with the native speakers.
Batch size for SAT training in Navsari
In our institute, SAT coaching is conducted in different batches and also in different timings.
In this SAT training in Navsari, the batch size for SAT coaching is divided into many small batches. The more interactive classes, the more you can learn the subject.
With limited students per batch, our SAT trainers can offer individual attention to the students.
Our SAT training in Navsari also offers weekend and weekdays coaching.
Are your SAT exams nearing? If you still want best coaching within a short duration then fast-track SAT coaching is also available.
Coaching modes for SAT preparation batches
Online SAT coaching mode: If you feel that distance is too long to travel, you can get enrolled in our SAT online classes. The virtual live interaction classes will be helpful for the students to enhance their skills required for facing the exam successfully.
Offline SAT coaching (Classroom) mode: The traditional classroom sessions are conducted for the students who wish to prepare for the SAT exam in professional guidance. Our trainers offer the best coaching for all the candidates enrolled with us.
Have queries regarding SAT dates in Navsari or SAT Navsari center or SAT fees in Navsari or SAT coaching classes in Navsari?
Are you worried about how to enrol for an SAT coaching class? Or thinking about the procedures to be endured during the exam preparation and the application? Then it's your high time to contact our expert team and get your queries clarified. You can reach out to our expert team by filling the enquiry form.
Use the hashtags #PrepwithKanan and #SATcoachinginNavsari to contact our experts through social media. Kanan International helps the candidates in admission by guiding them for the visa process, application filling, travelling procedures, etc.
Reviews
Our students who are proud of their achievements, eventually become our brand ambassadors. We're indebted to them.
This is Dinesh Choudhary. I have got a 7 band score by taking the training from the Kanan International Navsari. My trainer helped me a lot by understanding my ability and giving suggestions to improve in each section. They conducted many mock tests to make the practice easier. I highly recommend this institute.
I'm shyam patel, taken coaching from Kanan International Navsari. I got a 8 band score in listening. The faculty covered each area of the syllabus. Their way of teaching is very well understandable. They clear each of the questions that I asked. I'm thankful for the decision to learn here.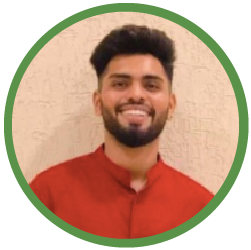 Vidhi Kukadiya here. I'm grateful to the Kanan International Navsari team for making me get the band score of 8.5 in listening, 8 in reading and overall 7.5. My trainer is too good in giving suggestions, explanation, training and guidance. The study material and portal access were much helpful in getting that score.
Certification
To encourage the students enrolled with us for the SAT coaching, we offer course completion certificates for those who have successfully completed our course. The College Board will set the SAT exam pattern every year. Thus, you can score better if you practice the SAT according to the latest pattern. In Kanan international, the SAT trainers will guide the students according to previous year SAT exam patterns. By doing so, you can easily practice to finish the SAT exam successfully within the stipulated time.
SAT General course in Navsari:
SAT General test is included in college admissions, as SAT score is mandatory in some colleges. The SAT exam includes reading & writing skills along with Maths knowledge. At Kanan, our syllabus is structured in a way to help the students score high in the first attempt. The study materials offered by us are designed to cover the entire syllabus given by the ETS and will be updated regularly.
SAT Subject course in Navsari:
SAT 2 (SAT subject exam) has a list of subjects including biology, chemistry, physics, U.S History, World History, literature, Maths, foreign languages. Some colleges prefer SAT subject test scores as a part of the college admission process. For SAT subject test training in Navsari we have dedicated faculties who are subject experts and are experienced in handling coaching classes for aspirants. You can now become part of a leading SAT institute in Navsari by associating with us.
Top scores from our SAT coaching in Navsari
Kanan SAT coaching in Navsari has been well known for its advanced training program with AI prep portal. Our team has successfully trained more than 50,000 students to compete in their entrance exams required for international university admissions. 85% of our students have scored above 1100 and nearly 74% of candidates have scored above 1300. Register with us now and get ready for your international education.
10000+
no of students in last 5 years
English Coaching for TOEFL, GMAT, SAT, GRE, and IELTS
All the competitive exams required to get admission in the International universities require strong english knowledge to crack the exam with high scores. Taking this point into account, Kanan International is offering exam coaching along with English skill improvement classes. These sessions are conducted to improve the candidates' vocabulary and their proficiency in the language. Boost your english level and get placed in the top universities of the globe.
Online SAT Training in Navsari
To cater to the needs of the students who are unable to attend the direct classes, they can opt for the online SAT training in Navsari. As mentioned earlier, the SAT exam consists of three compulsory sections - reading English, Writing English and maths. All these sections will be covered during the coaching sessions and the trainers are well experienced in handling the online classes. Our online coaching is unique as we offer live interaction sessions where the students can communicate with the faculties similar to the regular classes.
SAT Coaching for Beginners, Intermediates and advanced levels
The tutorials for SAT in Navsari are briefly prepared by SMEs. Therefore, it is easy to follow and practice. You must practice solving the maths problems given in the study material frequently for getting a high score in the SAT maths section. Our tutorials for SAT in Navsari also contain detailed video lessons, pdfs and guides which explain the tips and tricks to attend the SAT exam within the time duration successfully. You can be in any skill level but still you can clear the SAT exam easily if you are in association with the Kanan International.
SAT Coaching for Study Abroad - General and Subject training
SAT is a very popular foreign education entrance examination especially for doing undergraduate studies in the USA & Canada. Apart from SAT coaching, we offer study abroad consultancy and visa consultancy for students aspiring to do undergraduate studies in the USA and Canada. We have tie-ups with more than 150+ American and Canadian universities.
SAT doubt clearing sessions and Coaching Discussions in Navsari
Kanan International gives importance to weekly discussions. By this way, you can get a clear picture of the subject that is taken by the SAT tutors that week. Our SAT trainers insist upon individual attention. Every SAT student must get high scores is our goal. At the end of every class, tutors will ask to clarify the doubts. You can very well ask and get your doubts clarified. Apart from this, there are also many doubt clearing sessions every week.
Everything You Need to Know About SAT Coaching in Navsari
The College Board is liberal in setting the eligibility criteria for attending SAT exams. Thus, students from any educational background and age can attend the SAT exam to join the university abroad.
In India, the SAT exam fee is $101. This is exclusive to the essay section that is optional. If you want to take the essay section then the exam fee is $117.
Ensure to give the exam date correctly. If you want to change the SAT exam date then it will cost additionally.
After the completion of the SAT exam, you can see your results after 20 days of taking up the SAT exam. Check by logging in to the College Board website.
The SAT study materials provided in our institute are frequently updated according to the change in SAT exam pattern. Hence you can totally rely on the material to prepare for the SAT exam.
Tips to Score high in the first attempt
Plan well in advance to register for scheduling SAT exam dates. It is good to register by yourself instead of seeking help from others. It is because you need to give proper information about your name, DOB and other niche information about yourself.
You can answer questions that demand information about yourself. Though it takes some time, the process is worth it to get into university abroad.
Be careful while exploring the location of the SAT test centres. Check whether the location is near you or requires Travelling a lot.
Many things that GRE and SAT resolve to the same purpose. But it is wrong. The SAT exam is for getting under graduation admission in colleges. And the GRE exam is for getting graduation admission in colleges.
You may get the study materials for SAT online too. But it is not available in structured format. There are chances for you to neglect several topics while studying through online sources, without noticing it. However, it is not the case if you study our SAT study materials. It is fully structured by covering all topics of SAT syllabus.
Improve your reading and understanding skills to save time during the final exam.
Try evaluating yourself to monitor your progress. This will be useful to find out your weak topic and thus you can put more effort on that particular subject to improve your score.
Plan your preparation in advance so that you will be able to cover the entire syllabus and there will be sufficient time to focus on the areas requiring more concentration. You need to know the syllabus and the preparation must be based on it
Start focusing more on the practice tests and try to attempt as many tests as possible.
Join Kanan International SAT coaching in Navsari for the expert guidance test preparation. We ensure that you will be scoring high in the first attempt and will also offer complete guidance for your admission process.
Reach our SAT coaching Center in Navsari
Kanan International SAT Coaching Center location is nearer to major localities in Navsari like Gandevi, Bilimora, Jalalpore, Surat, Chikhli, Valsad, Sachin, Parnera, etc can reach us.
Address of our SAT Coaching Center in Navsari
B-01, Bai Ratanji Bamji Building,
Opp. Lunsikui Cricket Ground,
Navsari, Gujarat-396445, India
Working hours :
09:30 am - 06:30 pm
FAQ - SAT Coaching in Navsari
What is the SAT exam syllabus?
Talking about the SAT exam syllabus, it covers only the topics that you have studied in high school classes. Hence if you have mastered those topics then you need not worry to score high in SAT exam. In maths, the SAT syllabus covers topics including data analysis, algebra, problem-solving and some advanced mathematics topics. The reading section syllabus of SAT will test your understanding capability from a given passage. The writing section will test your way of writing English conventions.
Where to find the best SAT Coaching institute in Navsari?
SAT exams should be taken seriously to enter into the best college. And so, you can pursue your graduation to build a strong career. Since this is the first step towards a successful career, you must search for the best SAT coaching centre. Kanan International is one such niche where you can get professional SAT coaching in Navsari. If you feel that distance would be too long from your locality then you can also opt some other SAT coaching centres via exambazaar.com
How many times can I appear for the SAT examination?
The College Board has set NO RESTRICTIONS to take the SAT exam. You can write the SAT exam as many times as you wish. However only the last scores (past 6 times) of SAT score will appear in the SAT file.
How much time does it take to prepare for the SAT examination?
This is purely depending on the individual's circumstances. If you can spend more time studying for the SAT then you can achieve your target quickly. If you are working then plan the time to study accordingly. If you are studying under professional guidance then you can prepare for the SAT exam even earlier than anticipated.
Does the SAT examination have all multiple-choice questions?
The optional essay section and some maths questions come without choices. Apart from that, all the other questions come along with multiple choices. You will be left with four multiple answers to pick from, for each question.
Why Should I Look for SAT Coaching in Navsari and why not prepare for it?
You can prepare for the SAT exam by yourself. However, you can learn professionally via SAT coaching in Navsari. You can gain confidence, get specialised focus towards the areas of weakness and learn for the SAT with ease through a coaching institution.
Why Do I Need SAT coaching?
Aforementioned, through SAT coaching, you can learn the subject directly from the professional trainer. The SAT coaching will be more beneficial for students who struggle to master the English reading practice and Maths syllabus. Moreover, if you are going to take the SAT subject test, coaching plays a vital role to score high.
Advantages of Studying in The US
Firstly, many best & prestigious universities are present in the United States. Studying in one of those universities will enhance your career opportunities, broaden your English vocabulary, help to achieve an international career and also to enjoy their lifestyle.
What is SAT 1 & SAT 2? How are they different and how does one prepare for each?
SAT 1 is a General SAT exam and SAT 2 is nothing but an SAT subject exam. Sections, question patterns and timings are different for these two SAT exam types. You must search for updated study materials and prepare for the SAT exam. However another reliable resource is studying in a professional SAT coaching institute. Here, you will get access to the latest study materials and also guidance to learn it.
Is the course refund option available?
No. The fee is non-refundable. However, our demo class and guidance session are free of cost.
What is the fee for SAT Training in Navsari?
Are you searching for the best SAT training in Navsari at an affordable fee? Then Kanan International is the right choice. It is always good if we get excellent coaching for a low fee. And yes, we provide that. You can compare any other SAT class fee in Navsari with our fee. You need to pay only INR 25000 for SAT training in our institute. And it can be paid in two instalments. Multiple payment options are available. For further details you can contact our office.