updated on 14-11-2022
IELTS Academic Reading Practice Test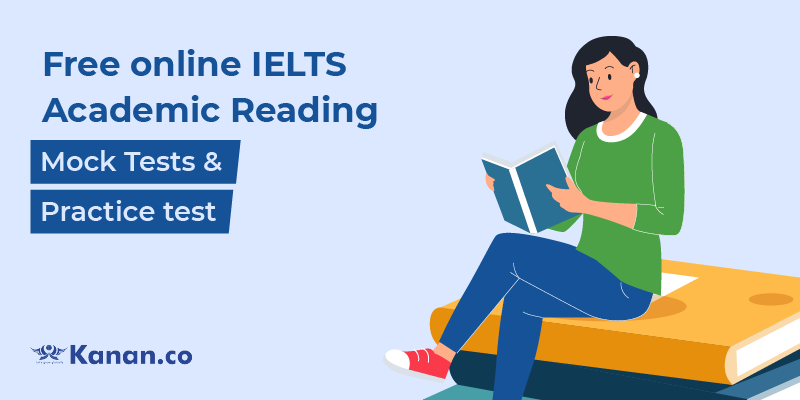 Table of content
The International English Language Testing System (IELTS) is a standardized test to assess the language proficiency of non-native speakers. If you have a plan to study, work or migrate to English-speaking countries, then you should take an IELTS test. It is necessary to improve your reading skills as reading will be one of the skills to be tested. You can increase your competency in the reading section by attempting our IELTS academic reading practice test.
Taking an IELTS academic reading practice test can help you to understand how actually the reading test works in the IELTS exam. It is designed to sharpen your reading skills such as skimming and scanning. It is important to identify your weakness in order to perfect your learning. These IELTS academic reading tests will make you aware of your skill level so that you can speed up your learning process. You also get other advantages like time management skills, familiarising yourself with question types, understanding of test patterns, etc.
IELTS Academic Reading Mock Test
In this IELTS academic reading mock test article you will be having 3 practice questions to check your reading skills. In each question, three reading sections with 40 questions will be given. You will be given 60 minutes to complete the reading test. 14 different question types are used to assess your reading skill including matching headings, summary completion, etc. The two basic and major skills required for answering the reading questions are skimming and scanning. Skimming is the ability to get the gist of the passage while scanning is the ability to locate individual words or short phrases in the passage.
Check out the other IELTS academic reading tips
General Information about IELTS Academic Reading Test
Test Duration
Total Marks
Marks per Question
No. of. Question types

No. of sections

Skills Tested
60 minutes
40
1

14

3

(Each section has 10 to 17 questions)

Skimming
Scanning
Read for detail
Ability to understand the logical argument
Ability to recognise the writer's opinion, attitudes and opinion.
Attempt the following IELTS academic reading practice tests and evaluate your answers. This will enable you to attain an 8+ band score on the IELTS academic reading test.
Instructions to the Candidates
The following are the usual instructions mentioned in the actual test.
Open the question paper only when you are told to do so
Make sure to write candidate number and your name in the spaces at top of the page
Read the instructions properly before starting to answer questions
Answer all the 40 questions
You must write your answers on the answer sheet; use a pencil
Complete the answer within a time limit
IELTS academic reading Practice test 1

IELTS academic reading Practice test 2
IELTS academic reading Practice test 3
IELTS Academic Reading Mock test based on Question type
There are 14 different question types in the IELTS academic reading section such as multiple choice questions, flowchart completion, etc. Each question type has its own difficulty and problems. Commonly, You need to have skimming, scanning, and paraphrasing skills to perform well in reading tests.
For a detailed explanation of the question type, you can visit our IELTS academic reading question type page
Below, we gave mock tests for each question type for you to practice. Use it well.
IELTS Academic Reading Practice Test based on Question type
To excel in the IELTS academic reading test, you must have the ability to grasp the main ideas, read for detail and understand the logical argument. One of the biggest problems in writing the IELTS exam is managing time. You can develop your reading skills and the ability to manage time well by taking the practice tests that we've given below.
For more exercises, click IELTS academic reading exercise with answer
Conclusion
These free IELTS academic reading practice questions are tested and tried by hundreds of students and their answering skills are improved. These practice tests prepare you to complete the task within a time limit. We hope that you will use these practice questions to the maximum.
FREE Online IELTS Mock Test 2023
Practise our mock test worth Rs. 25000 for FREE and know your IELTS Score!!!
Take the test now
FREE Online IELTS Mock Test 2023
A truly global higher education partner to learners and education institutions Support learners at every point in their global education journey with reliable services, products and solutions.
Global Headquarters
Kanan Int EdTech Inc
229, Yonge Street Suite 406 Toronto Ontario, Canada M5B 1N9
Indian Headquarters
Kanan International Pvt. Ltd.
D-wing, 2nd Floor, Trident Complex, Ellora Park Vadiwadi Road, Vadodara, Gujarat 390007
IT/ Digital Campus
Chennai Office
132, Habibullah Rd, Satyamurthy Nagar, T. Nagar, Chennai, Tamil Nadu 600017
Copyright © 2023 KANAN.CO All rights reserved.