IELTS Coaching in Valsad
To pursue your dream course in one of the top universities in countries like the USA, the UK or Canada, take our IELTS coaching in Valsad. We have 25+ years of experience with professional IELTS tutors. If you're new to IELTS, don't worry. The International English Language Testing System (IELTS) is an English language proficiency test conducted by the British Council, IDP, and Cambridge ESOL examinations. It assesses your listening, speaking, reading, & writing skills.

Kanan International is one of the top institutes in India for IELTS exam training. We strive to bring international education a reality for prospective students. We have successfully made more than 20,000 students study abroad and have strategic tie-ups with 150+ Canadian and American universities. Our IELTS coaching in Valsad possesses experts as trainers, delivering an effective training program right from the beginning. We also train students for courses like GRE, GMAT, TOEFL, SAT, PTE, etc.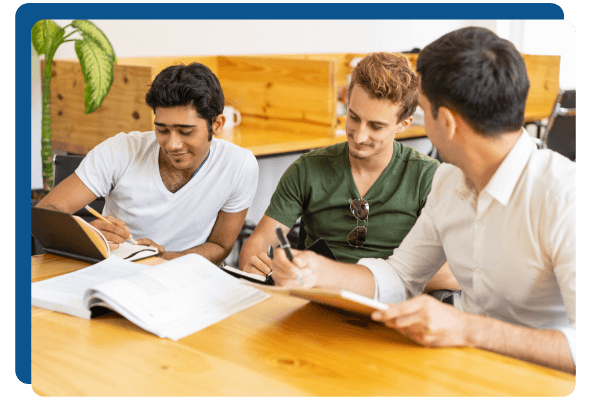 What is the syllabus for the IELTS course in Valsad?
Before getting into the preparation mode, you must know the latest syllabus for the IELTS exam. Students who join the Kanan IELTS course in Valsad will get the updated syllabus for 2022, prescribed by the British Council, IDP & Cambridge English. Here, you will be trained in all the exam sections. Let's quickly go through the IELTS exam pattern as follows.
IELTS Reading test
The IELTS reading test comprises three sections, where you need to read 3 different passages and answer 40 questions in 60 minutes. The questions can be from any of the question types: data identification, multiple-choice, sentence formation, summary completion, matching headings, and writers' opinions identification.
IELTS Writing test
The IELTS writing task contains an academic writing section. Here the test-taker must answer two short essays - one essay of 150 words and another essay of 250 words. In the first essay, the test-taker must answer the details taken from the given diagram or table. In the second essay, the test-taker must give a solution to an argument, problem, or point of view and justify their points. The section takes 60 minutes to complete.
IELTS Listening Test
The IELTS listening test comprises four different sections. The first two sections will be a social-related topics, and the second two will be an education-related topic. In the IELTS listening test, the question types include multiple-choice questions, map and diagram labeling matching features, sentence completion, summary completion, etc. The timing is 40 minutes to complete 40 questions and the last 10 minutes to transfer the answers.
IELTS Speaking test
The IELTS speaking test is similar to attending an interview where the examiner assesses your English speaking skills and your fluency in the language. The IELTS speaking test comprises 3 parts - personal interview, topic-based speech, and discussion over the topic. The entire speaking test will take 11- 14 minutes to complete, and the whole session will be recorded for re-evaluation purposes.
The British council prescribed the IELTS guidelines and an updated syllabus for the year 2022. If you are looking for the best IELTS course in Valsad, you must visit Kanan International once as we train students to score above 7+ band in their first attempt.
What are the upcoming batches, schedules, timings, duration, course fees of the best IELTS coaching centre in Valsad?
Our IELTS coaching center in Valsad class timings are flexible to our students' needs. We also offer various batch options such as weekdays, weekends, fast-track, online, etc., at an affordable fee structure (INR 15,500). To know more about the class timing and schedules, please refer to the table below.
| Upcoming Batches | Batch starts on | Timing | Duration of the course | | Availability |
| --- | --- | --- | --- | --- | --- |
| Weekdays regular | 5 Jun 2023 | Flexible Timing between 9.30 AM - 8.30 PM | 60 hours | | |
| Weekdays morning | 6 Jun 2023 | 9.30 AM - 8.30 PM | 60 hours | | |
| Weekdays evening | 9 Jun 2023 | 9.30 AM - 8.30 PM | 60 hours | | |
| Weekends | 12 Jun 2023 | 9.30 AM - 8.30 PM | 60 hours | | |
| Online batch | 14 Jun 2023 | 9.30 AM - 8.30 PM | 60 hours | | |
| Fast-track batch | 14 Jun 2023 | 9.30 AM - 8.30 PM | 60 hours | | |
If you find the schedule given is not ok? Contact our counselors and fix a suitable time. We will organize tailor-made classes in our IELTS coaching center in Valsad without charging any additional cost. An ideal IELTS course duration is 45 hours. Whereas, for fast-track batches, we will have quite less time.
Who will train you?
What is the Coach / Trainer Profile of IELTS classes in Valsad?
Kanan International possesses the best resources, and qualified and experienced trainers, who will teach you the necessary topics to boost your existing performance in the IELTS test. Moreover, they will support students in all possible ways.
Our tutors in our IELTS classes in Valsad possess over seven years of teaching experience in English in institutions like the British Council, IDP, Magoosh, IELTS Ninja, etc.
Our faculties are officially certified with e-moderation, CELTYL, DELTA, and CELTA. (including Diploma in Teaching English to Speakers of Other Languages, Certificate in English Language Teaching for Young Learners, and Certificate in the Teaching of English to Speakers of Other Languages)
Our faculties share useful tips and strategies to tackle the IELTS exam, make you practice various sample tests and give individual feedback to achieve an 8+ band score.
We have dedicated trainers to teach each module (Reading, Writing, Listening, Speaking) exclusively.
We also collaborate with some of the best IELTS personal trainers in Valsad who are equally passionate about the English language and possess a master's degree in English literature.
Our IELTS trainers not only attain expertise in delivering IELTS classes in Valsad but also conduct workshops in Business English and general English to make students highly proficient.
Our tutors provide the best IELTS classes in Valsad for both academic and general training. Our trainers are the best for fast-track batches or teaching students at the last minute (based on their busy schedules of IELTS dates in Valsad).
10 reasons why you should enroll for IELTS training in Valsad at Kanan International
Whether you want only an expert's advice or guidance, or you want to start the IELTS test preparation from scratch at the best IELTS training in Valsad Kanan International. The reasons why we are at the top of the board are as follows:
Our IELTS training syllabus covers the recently updated 2022 curriculum of the IELTS Test.

Our IELTS training schedule is flexible and easy to choose from multiple locations in Valsad.

Our state-of-the-art classroom offers an excellent learning experience.

Compared to other coaching institutes, we provide the best affordable IELTS coaching fees in Valsad.

You will be getting nearly 100 IELTS practice tests to sharpen your skills.

Through our systematic approach, you are likely to score an 8+ band in the IELTS exam on the first attempt.

Our IELTS Training in Valsad is available on weekdays, Weekends & Fast track batches. During weekdays, you can choose either regular, morning, or evening classes.

Our IELTS personal trainer in Valsad will provide you with the right study material, resources and strategies to crack the IELTS exam in Valsad.

Our IELTS training program includes mock tests, solving previous year's question papers, and brainstorming each section (for all three areas).

If you opt for our English professional coaching for IELTS, we would train you to speak like native English speakers and ensure you attain a band score of 7 or above.
Our IELTS training in Valsad fee is INR 15,000. It can be paid in two installments without charging an additional cost for language proficiency tests, immigration consultancy, listening practice lab, checking IELTS results, mock listening tests, visa and immigration guidance, and things like that. If you want to take the next step, you can book a free IELTS demo class at our IELTS coaching institute in Valsad.
What is IELTS?
International English Language Testing System (IELTS) is a language proficiency test for English conducted to assess your Listening, Reading, Writing, and Speaking skills. It is organized by the British Council, Cambridge, and IDP. Top colleges and universities in English-speaking countries accept IELTS scores for admission in undergraduate and postgraduate courses.
Format of the IELTS test
There are two formats given in the IELTS test, namely, IELTS Academic test and the IELTS General Training test. For both the IELTS test formats, paper-based and computer-delivered tests are available. People take the IELTS General Training for migration and work reasons. Similarly, people take the IELTS Academic test for study purposes only. Thus the students who wish to study abroad must take the IELTS Academic test and give their best to score a band 7 and above.
Who can do this IELTS course in Valsad?
The IELTS course in Valsad can be taken by students aspiring to go for higher education in international universities, freshers or working professionals seeking job opportunities in English-speaking countries, and other candidates or individuals looking for migration or permanent settlement in countries like the UK, US, Canada, etc.
What is the eligibility or prerequisite to joining our IELTS institute in Valsad?
The eligibility criteria or prerequisites to join our IELTS institute in Valsad are given below.
The student must attain a minimum age of 16 years.

The student must complete at least 12th grade to apply for undergraduate courses, similarly, a UG degree to apply for postgraduate courses.

The student must have a valid passport (not expired).

The student must know which IELTS exam format they are going to appear for as we offer separate training for each exam format.

The student must not have any previous or existing criminal records.
If you satisfy the above criteria, you can join us and start your IELTS training program in Kanan's IELTS institute in Valsad at your convenience. Please remember that we also offer visa processing services for all candidates.
IELTS training with Spoken English classes
As you know, English is one of the largest speaking languages, used as a medium of instruction in most colleges and universities across the world. Students aspiring to study or work abroad must be able to communicate and express themselves at ease. Since it is vital in this competitive world, we offer IELTS training with spoken English classes. It enables you to speak, read and write in English with confidence.
Batch size for IELTS training in Valsad
Individual batches for General Training and Academic Training are provided in IELTS training in Valsad.

At the end of each session, our tutors will share easy tips & tricks to tackle the questions.

SDS Batch / Personalised Batch (online or offline), SDS Batch / Personalised Batch (offline), Regular Batch for New enrollment (offline + online), Regular Batch for New enrollment (Offline) batch options are offered for students. They can choose the batches based on their convenience.

All students will be provided with recently-updated study materials, student's counsellor, visa advisor, etc.

The fees structure for IELTS training in Valsad is affordable to any learner and the complete package starts with the basic amount of INR 15,000.
Coaching modes for IELTS preparation batches
Offline (Classroom) IELTS Coaching: Do you think face-to-face training is required to improve your English skills? The good news is that we offer IELTS classroom training in Valsad. You can also take a live IELTS course in Valsad by the IDP-certified experts at any Kanan branch. Since it has limited seats, kindly register soon to book your seat.

Online IELTS Coaching: If you think online coaching is flexible and provides you more time to prepare? No worries. You can register for our IELTS online training in Valsad, where our Instructor-led Live-Online interactive classes are available. Each session will be recorded and given to you for revision purposes.
Have queries regarding IELTS dates in Valsad or IELTS Valsad center or IELTS fees in Valsad or IELTS classes in Valsad?
Feel free to contact our IELTS expert & Study Abroad Manager and get valuable guidance from them for free. Our vision is to make international education a reality for everyone. That's what keeps us motivated for over 27 years and helps students study abroad at their dream university.
To get answers to more questions related to the IELTS Exam? Use the hashtag #IELTSClassesinValsad and #IELTSprepwithKanan and post your questions on social media. Our experts would be happy to help you.
Reviews
Our students who are proud of their achievements, eventually become our brand ambassadors. We're indebted to them.
Certification
After completing our IELTS coaching in Valsad, students will be awarded a course completion certificate. Well, it's not that easy. They must attain proficiency in all IELTS test modules, including Reading, Writing, Listening and Speaking. Our IELTS trainers at Kanan International are British Council and IDP-certified English teachers. They have more than 7 years of experience in training students of all categories, including IELTS Academic and IELTS General Training. If you're a serious candidate, give us a call, and we will make sure you go abroad.
IELTS General Training in Valsad
Our IELTS trainers in the IELTS general training in Valsad give equal emphasis to all modules like IELTS listening, IELTS speaking, IELTS reading and IELTS writing. A certified examiner will handle the IELTS class using real-time examples. The course includes weekly tests and feedback sessions from the tutor. The classes and practice tests will be rescheduled or conducted online if the student can not attend due to an emergency. In the end, we ensure that students attempt as many mock tests as possible to gain knowledge and speed.
IELTS Academic Training in Valsad
The IELTS Academic training in Valsad is one of the best for its pedagogical system. Our IELTS trainers will give individual attention to students and check their progress regularly. Based on their performance, the course training will be customised. There are also special online webinars conducted freely for topics like a study in Australia, how to choose test dates, venues, paper-based or computer-delivered tests etc. Besides that, we also provide services for immigration purposes useful for visa processing.
Top scores from our IELTS classes in Valsad
Each year thousands of students enrol in our IELTS classes in Valsad and achieve their desired score on the very first attempt of the exam. If you go back to the last five years, nearly 2000+ students have undergone our IELTS coaching. Surprisingly, the average score is eight-band, where a significant number of students reached a nine-band score. It is possible because we have: Highly experienced & certified tutors, online instructor-led live interactive sessions, Individual attention by mentors, and many more.
10000+
no of students in last 5 years
Top IELTS Listening Preparation Tips
Practice listening to a casual conversation between two individuals in a daily social context.

Practice listening to a monologue and learn how to replicate it.

Practice listening to a group discussion or a conversation between a group of people in an academic context.

Practice listening to monologues given at a university lecture.
Practice answering questions in less than 30 minutes in mock tests.

Practice listening to a conversation between people using different accents in English.

Above all, watch movies, TV shows, etc., in English without subtitles. It will help your listening skills tremendously.
English Coaching for TOEFL, GMAT, PTE, GRE, and IELTS
Apart from the IELTS coaching classes, certain additional classes are offered in Valsad to improve students' language proficiency. The language testing commences at the end of a set of classes to measure the student's performance. Moreover, we conduct fast-track English language classes in Valsad on a regular basis. The main aim of these classes is to hone the overall skills in English. We also offer classes for TOEFL, GRE, GMAT, and PTE.
Online IELTS Academic Training in Valsad
Is it necessary to have face-to-face training for IELTS? Not really. Many aspirants have opted for IELTS online classes in Valsad and achieved an eight-band score on their first attempt. All they did was attend all classes, tests, and feedback sessions offered by Kanan International. They used our study materials and attempted all test series conducted online and offline. Thus, there is no doubt that our IELTS coaching in Valsad is pioneering among the other IELTS training institutes in Valsad.
IELTS Coaching for Beginners, Intermediates and advanced levels
IELTS classes in Valsad accommodates students of different levels - beginners, intermediate and advanced. Those who thought that beginners couldn't clear IELTS in their first attempt, we proved them wrong. Our IELTS tutors know exactly how to improve a person's language skills, especially reading, writing, speaking and listening. Other than classes, we provide exercises to practice at home every day. It eventually reaped good results for the students. All they need to do is dedicate themselves completely to this IELTS exam. Since we follow the Cambridge IELTS pedagogy system, even a beginner can score better on the test. Thus, through continuous practice and training, the beginners, intermediates and advanced learners will end up with a band score of 8+ and go to their dream country.
IELTS Coaching for Canada PR and Study Abroad - General and Academic training
Are you planning to get a permanent residency (PR) in Canada or aspiring to study abroad in an English-speaking country? We offer tailor-made courses exclusively for IELTS Academic and IELTS General Training. We also guide you by our visa experts on different PR visa types, which include eligibility criteria, documents requirement, the application process, etc. Since Canada PR and other countries' PR have their IELTS score requirements, we train you accordingly to improve your vocabulary, accent, and grammar. Our IELTS preparation course includes an IELTS speaking test, making sure you effectively communicate in English. As part of our IELTS preparation training, we provide an answer sheet, followed by a report form at the end of each mock test (including writing the IELTS module). So, without further adieu contact our IELTS coaching institute in Valsad and register for the upcoming IELTS training batch.
IELTS doubt clearing sessions and Coaching Discussions in Valsad
For students' doubts, there are regular doubt clearing sessions conducted at the end of each IELTS class. It is to solve their problems in understanding and find out inaccuracies in student answers in free practice tests. During that session, our IELTS trainers will discuss the topics in detail. In addition, they guide students to get the highest band score in every section so that it adds to the overall IELTS score. Beyond this, if any particular student needs further clarification, they can ask the tutor individually and get their doubts answered.
Everything You Need to Know About IELTS Coaching in Valsad
Eligibility requirement for IELTS: A candidate aged 16 years with a valid passport and aspiring to study in countries like the USA, Canada or Australia.

IELTS exam fee in Valsad: The IELTS Academic exam fees in Valsad for 2022 are Rs. 16,250/- (sixteen Thousand Two Hundred Fifty rupees only). Similarly, the IELTS General Training exam fee in Valsad for 2022 is Rs. 16,250 (sixteen Thousand Two Hundred Fifty Rupees only).

A number of reattempts: There is no such restriction to the candidates. You can retake your resit for your IELTS exam anytime as there is no upper limit.
Types of IELTS exam: There are 2 types - IELTS Academic and IELTS General Training.

IELTS exam duration: approximately around 3 hours in which the Speaking module will be conducted separately.IELTS exam duration: approximately around 3 hours in which the Speaking module will be conducted separately.
Tips for Scoring 8 Band in the first attempt
Spend at least 1 hour watching English news, TV shows, podcasts, etc., without subtitles.

Read an English newspaper article and write it in your own words.

Speak in English with your friends, colleagues, etc., until you become fluent.

Try an English grammar quiz, mock tests, and exercises to test your skills.

Don't spend more time on a single question.
If you're planning to attend the exam in paper-based, practise all modules in paper-based. For computer-delivered tests, it applies the same.

Don't leave any questions unanswered.

Practice each module at least 10 times to increase your speed.

Take short notes of new vocabulary, grammar hacks and other information for revision purposes.

For effective tips and strategies, register at Kanan International, Valsad, which offers a perfect training.
Reach our IELTS coaching Center in Valsad
Address of our IELTS Coaching Center in Valsad
17,118,120, 1st floor,
Sai Leela Mall, Abrama-Dharampur Rd,
Abrama Village, Valsad,
Gujarat 396001 India
Working hours : 09:15 am – 06:30 pm
Email ID : admissions@kanan.co
Mobile No : +91 63570 12000
FAQ - IELTS Coaching in Valsad
A truly global higher education partner to learners and education institutions Support learners at every point in their global education journey with reliable services, products and solutions.
Global Headquarters
Kanan Int EdTech Inc
229, Yonge Street Suite 406 Toronto Ontario, Canada M5B 1N9
Indian Headquarters
Kanan International Pvt. Ltd.
D-wing, 2nd Floor, Trident Complex, Ellora Park Vadiwadi Road, Vadodara, Gujarat 390007
IT/ Digital Campus
Chennai Office
132, Habibullah Rd, Satyamurthy Nagar, T. Nagar, Chennai, Tamil Nadu 600017
Copyright © 2023 KANAN.CO All rights reserved.