SAT Coaching in Vapi
The Scholastic Assessment Test or SAT was developed by the College Board. It's managed by the ETS and is accepted primarily for undergraduate admissions at American colleges and universities. Over 20,000 students have benefited from the SAT coaching in Vapi which is offered by Kanan International.
Our SAT classes are designed for all higher education aspirants, seeking opportunities to study abroad. Kanan International prepares students for SAT coaching in Vapi and other equally important exams, such as IELTS, TOEFL, GRE, and GMAT. It has a massive online presence with offices in Vapi, Surat, Bardoli, Ahmedabad, and Chennai.
What is the syllabus for the SAT course in Vapi?
At Kanan International - Vapi - for all our SAT classes, our trainers adhere to the latest pattern as directed by the ETS. Our SAT course in Vapi includes test papers, study materials, notes, books and others which gets updated frequently. Our SAT prep classes in Vapi have a variety of mock tests and practise tests to help our students perform well in the exam.
SAT Reading test
SAT reading test contains three reading sections: Reading comprehension - 25 mins, Sentence completion - 25 mins, Paragraph reading - 20 mins. Each section will be in the form of passages, on total 5. Each contains 10 to 11 questions, a total of 52 questions. Each passage will be related to sociology, psychology, physics, chemistry, literature, and the US constitution.
SAT Writing and language test
In this section you need to read 4 passages where each contains 11 multiple choice questions to answer in the duration of 35 minutes. These passages are related to the topics History/Social Studies, Humanities, and Science. It will analyse the way you present your idea, usage of language, logical thinking and others.
SAT Mathematics test
SAT mathematics test has 2 sections – with a calculator and without a calculator: Algebra and functions - 25 mins , Geometry and Statistics - 20 mins , Probability and Data analysis - 20 mins
Without a calculator: Consists of 20 questions to be answered in 25 minutes. , Except for problem solving and data analysis, this section contains questions from all the four main fields.
With a calculator: Consists of 38 questions to be answered in 55 minutes , 30 questions are multiple-choice, while the remaining 8 are grid-in questions , The student must bring a calculator to use in this section; scientific calculators and some graphing calculators are permitted , A calculator on a mobile device is not permitted.
SAT Essay test
Essay writing- 50 mins. The essay section helps students hone their skills in reading, writing, and analysing. This is an optional test. You'll be given 1 passage which carries 650 to 700 words to read and answer.
Our SAT course in Vapi provides flexibility in terms of learning, timings, and payment options. Our students' priority is the first thing that comes to mind when delivering any form of training. We follow the latest exam pattern and continually assess the performance of students.
What are the upcoming batches, schedules, timings, duration, course fees of the best SAT coaching center in Vapi?
At our SAT coaching centre in Vapi, we offer SAT training classes in a variety of formats. The classes are available on weekdays and weekends. You can also avail for fast-track and online batches. You can choose your preferred timings such as morning, evening, regular, and so on. We charge a reasonable coaching fee of Rs. 25,000 for each class. Payments can be made in instalments and other ways such as cash, credit and debit cards, and g-pay. You can find the schedule, timings, and duration of our upcoming SAT classes in Vapi in the following table:
| SAT Batch in Vapi | Batch starts on | Timing | Duration of the course | Availability |
| --- | --- | --- | --- | --- |
| Weekdays regular | 27 Jun 2022 | Flexible Timing between 9.30 AM - 8.30 PM | 60 hours | |
| Weekdays morning | 28 Jun 2022 | 9.30 AM - 8.30 PM | 60 hours | |
| Weekdays evening | 1 Jul 2022 | 9.30 AM - 8.30 PM | 60 hours | |
| Weekends | 4 Jul 2022 | 9.30 AM - 8.30 PM | 60 hours | |
| Online batch | 6 Jul 2022 | 9.30 AM - 8.30 PM | 60 hours | |
| Fast-track batch | 6 Jul 2022 | 9.30 AM - 8.30 PM | 60 hours | |
SAT Batch in Vapi
Batch starts on
Timing
SAT course fees in Vapi
Duration of the course
Availability
Weekdays regular
27 Jun 2022
9.30 AM - 8.30 PM
60 hours
Weekdays morning
28 Jun 2022
9.30 AM - 8.30 PM
60 hours
Weekdays evening
1 Jul 2022
9.30 AM - 8.30 PM
60 hours
Weekends
4 Jul 2022
9.30 AM - 8.30 PM
60 hours
Online batch
6 Jul 2022
9.30 AM - 8.30 PM
60 hours
Fast-track batch
6 Jul 2022
9.30 AM - 8.30 PM
60 hours
If you are not happy with the above-mentioned batches, you can speak to one of our counsellors about scheduling SAT coaching classes in Vapi at your convenience. The faculties of our SAT coaching center in Vapi will arrange a class that fits your time and budget.
Who will train you?
What is the coach/trainer profile of SAT classes in Vapi?
At Kanan International, we have plenty of resources to help our students in every possible way. Our experienced, passionate, and dedicated trainers have coached many students across the country.
Experienced trainers guide the students with various examinations, besides SAT, like IELTS, TOEFL, GMAT, and GRE.
The trainers also take care of enhancing the communication skills for college students and professionals who attend the SAT classes in Vapi.
All trainers are experienced and enthusiastic about sharing their skills and knowledge.
The trainers deliver SAT classes in Vapi in a scheduled time via both classroom and online training.
Our trainers have experience in providing online English language training, from basic, intermediate, to advanced levels.
Over 2,000 students have benefited from the SAT training in Vapi at Kanan Inter.
Our trainers also help students in skill development, which prepares them for any real-life scenario.
10 reasons why you should enroll for SAT training in Vapi at Kanan International
Students who are in search of SAT training in Vapi can join Kanan International without further hesitation. If you want to know why you need to join us, then check out the below reasons:
Experienced and trained instructors who give you all the basic tips and tricks of SAT. They know what works best for students.
Various mock examinations, either computer-based or pen-paper-based, are conducted. Each of the exams are graded by the faculty members.
Our trainers conduct separate doubt-clearing sessions. After each class that you attend, you'll be given a chance to discuss your questions. These sessions are meant to help you further boost your confidence.
At Kanan, we have dedicated student visa advisors. They can also help you with information on where to apply for your studies after SAT.
We offer online classes too. Online batches are no different from the offline ones.
Because of the large number of batches that we have to manage, we try to keep each batch small, ensuring that students receive individual attention.
When you enroll into the SAT training in Vapi with us, you will get a 6-month course validity period.
All students receive complete admission support. We have tie-ups with most of the top colleges in the United States and Canada.
We have helped more than 2,000 students clear the SAT exam.
At Kanan International, we keep all our batches flexible and adjustable for a stress-free learning experience.
These reasons will make you choose our SAT coaching institute in Vapi than any other institutes. We have 25 years of experience in this field and have trained more than 20,000 students to get their dream, join our SAT training in Vapi to be one among them.
What is SAT exam?
SAT is an entrance exam used by most colleges and universities to make admissions decisions. SAT is a multiple-choice, pencil-and-paper exam developed and administered by the college board and the ETS. SAT is used to assess a high school student's college readiness. It's ideal for students in 10th or 11th grade who want to further their career abroad.
Format of the SAT test
There are ideally two formats of the SAT exam: SAT 1 and SAT 2. SAT 1 is a general examination designed to assess the written, verbal, and mathematical abilities of the test-takers. On the other hand, SAT 2 is a subject-based exam. Students who want to be admitted to a specific course abroad must take the SAT subject test to prove their understanding of the subject.
Who can do this SAT course in Vapi?
Are you planning to do undergraduate studies in the US and Canada? Do join Kanan International and take our SAT course in Vapi. Our training was taken by the experts who can provide you with the techniques, shortcuts and strategies to excel in the exam.
What is the eligibility or prerequisite to join our SAT institute in Vapi?
Students who are going to take training from our SAT institute in Vapi, need to know the eligibility requirements that are involved in the SAT exam.
The age eligibility for the SAT exam is not prescribed by the ETS. But, it's recommended to fulfill the age of 18 years.
Students need to complete the minimum qualification of higher secondary education to take the SAT exam.
Students joining our institute need to take the mock test to reveal your ability in each area.
Have the required documents to appear for the SAT exam. Documents such as driver's licence, student ID, passport will be needed.
Have the registered admission copy of yours while appearing for the SAT exam.
Our SAT institute in Vapi helps you with all the requirements, information, documents, registration, application and others to make your study abroad dream hassle free.
SAT training with spoken English classes
Kanan International provides a variety of practical assessments to our students. This is done to assess their intelligence and skills. A free-spoken English class is offered as part of the curriculum to help them improve spoken English skills. Developing fluency is essential when it comes to students who are planning to do their studies abroad. Students at Kanan International will get trained for the course they choose, along with that they get trained for their English language.
Batch size for SAT training in Vapi
Because of the large number of batches at various times, each batch size is kept small, ensuring that students receive individual attention.
Students who have registered for the SAT exams and taken our training are given free refresher lessons such that they feel confident.
All our batches include practice tests for each section and mock tests that are conducted frequently to make students improve and get familiar with the pattern.
Our classes are taken by the experts who are specialised in the areas/subjects and also have years of experience in giving study abroad coaching.
Our batch trainers ensure we follow the updated syllabus in the classes we take, study resources we offer and we also provide updated information.
Coaching modes for SAT preparation batches
SAT classroom training: The SAT preparation classroom course is built to give you an opportunity to achieve a high SAT reasoning test score. Extra lessons are held to help each student overcome doubts. We give complete guidance regarding the SAT exam.
SAT online training: Kanan International SAT online training will be live interactive classes taken by experienced trainers. Our trainers make sure that they will take the next chapter, once each area gets understood and discussed by the students. Our online classes also carry frequent practice and mock tests. Join us today!
Have queries regarding SAT dates in Vapi or SAT Vapi center or SAT fees in Vapi or SAT coaching classes in Vapi?
Are you seeking information about the SAT exam? Kanan International's SAT coaching classes in Vapi offer you assured guidance for all of your study abroad needs. Right from the information of SAT exam, coaching, to the consultation services, we will help you.
Also, to make things easier we've come up with the hashtags #SATclassesinVapi and #SATprepwithKanan to rectify all your queries as quickly as possible. Once you raise your questions, our experts will reach you to make you clear with all your doubts.
Reviews
Our students who are proud of their achievements, eventually become our brand ambassadors. We're indebted to them.
I'm Hiral Mehta. I completed my MBA in 2013. I've decided to study in Canada. Having a 8 years study gap I've hesitated to start. Then, I approached Kanan International team Vapi. To my surprise they explained each step clearly, guided me well and have made the process easier. Finally I got my Canada student visa. I'm really thankful to their team.
Shreyank - student of Kanan International Vapi. I've scored band 7 in IELTS with the help of the trainer. The trainer was friendly and explained the details greatly. The classes were good. They provide study materials, portal access and other guidance also. Overall great experience to prepare for IELTS with them.
I'm Sohil Parmar. I got 7 band score in IELTS exam by taking the Kanan International Vapi fast track course. They made me clear with each section, they don't compensate on the quality of training. I got personalised attention from the trainer. I didn't expect, I could score well with just 15 days of training. Thanks to the trainer.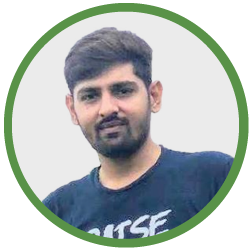 Certifications
When you enroll into the SAT coaching classes in Vapi with us, you will get a 6-month course validity period. Our SAT training in Vapi will give the course completion certificate for students who attend all of our classes, take practice and mock tests, show improvements in their skills and secure the expected score. This certificate gives you the confidence to enroll for the exam.
SAT general training in Vapi
As part of the program, we provide printed study materials, PDFs, and recorded video lessons to each student.

We also allow our students to join LIVE classes for 9 weeks, wherein expert mentors participate and teach all the SAT 1 sections.

We cover each section, questions, and tasks at our SAT general training in Vapi and also come up with strategies that make students understand better.

Special lessons on essay writing are held to teach them the fundamentals of writing essays on topics ranging from world history, social sciences, to literature.
SAT subject training in Vapi
Students who are choosing a specific course to study abroad can take our SAT subject training in Vapi. The score of the SAT subject test is required by some universities based on the specialization you choose.

Subjects like Mathematics, Science, English, History and Language are included in the exam. We have experts in these subjects and also they have served for study abroad students for many years.
Top scores from our SAT coaching in Vapi
Kanan International's student services have helped thousands of students realise their dreams of studying abroad. With our end-to-end facilities, tens of thousands of smart students like you, have been fulfilling their overseas education dreams. Our SAT coaching in Vapi has students who are scored well in the first attempt itself. We have the record of students securing top scores in their first attempt in each of our batch. Reach us to join with those top scorers!
10000+
no of students in last 5 years
English coaching for TOEFL, GMAT, GRE, SAT AND IELTS
If you're worried about your dream of studying abroad because of the English language, then leave them aside here. Kanan International conducts English coaching for students who take TOEFL, GMAT, GRE, SAT, IELTS or any other courses. Our ultimate goal is to fulfil your abroad dream without any hassles. Hence, we offer all the services and guidance that students need.
Online SAT training in Vapi
Students who enroll with Kanan for the SAT coaching classes in Vapi get access to several mock tests and high-quality study materials. Our method of teaching helps them develop confidence and secure a high score in the exam. Our online SAT training in Vapi ensures that all students get equal attention, enough information, clear with concepts and move forward with next. Get comfortable in your place to prepare, grab the techniques trainers provide, score well in the exam. Join us!
SAT Coaching for beginners, intermediates, advanced levels
Kanan International trains students with the goal of a band score which is accepted by all universities in the countries you wish to study. We know students joining our institute have different levels of ability, not all will need the same efforts or training. That's why we provide individual attention and personalised training for the students. If you're a beginner, intermediate or having an advanced ability, then our SAT coaching in Vapi will be the right choice.
SAT coaching for study abroad
We streamline the entire study-abroad process to give a hassle-free experience. From counseling, shortlisting, coaching, to student visa advice and pre-departure guidance, Kanan International helps at every step of the way. With a strong community of mentors and counselors who have been doing this for over 25 years, Kanan enjoys a rich legacy in the study abroad domain. At Kanan International, we have tie-ups with a large number of universities and colleges around the world. This allows us to ensure that your application meets the necessary requirements and is reviewed and processed in a timely manner.
SAT doubt clearing sessions and coaching discussions in Vapi
We assist our students through several discussions and doubt-clearing sessions. Various practical conversations, debates, and role plays are part of the session. As a student, you will have several opportunities to ask questions. You can ask anything related to the course structure, study materials, exam pattern, etc. Additionally, live sessions are devoted to addressing the hurdles that you face while preparing for the SAT. Archived lectures to review any content are available. Special courses are held to help students clear their doubts. This is done to encourage our learners to score well in the exam.
Everything you need to know about SAT coaching in Vapi
The SAT exam comprises three main sections - Math, Evidence-based Reading, and Evidence-based Writing. Also, there is an optional 50-minute essay section.
The SAT format includes 154 multiple-choice questions and 1 optional essay.
There are no specific eligibility criteria set by the College Board or ETS for the SAT. However, in our SAT Classes in Vapi it can be taken by students who are in their high school, preferably either 10th, 11th, or 12th grade students.
Candidates can take the SAT exam as many times as they want. SAT is conducted 5 times in a year in India, and usually in March, May, August, October, and December.
Visit the website of ETS and submit all the required details. Choose which exam you want to give, along with your nearest test center. Upload your photograph, and pay the application fee.
The SAT exam fee is around INR 6,200-7,000.
The total score for the SAT exam ranges from 400 to 1600. If you get a composite SAT score of 1083 or more, you are above average. A score of 1340 signifies 90 percentile and a score of 1410 signifies 95 percentile.
It takes 180 minutes to complete the exam, excluding breaks, and the SAT Essay takes 50 minutes to complete.
Tips to secure top score in SAT exam 2022
Practice is the key to achieving a high score in the SAT exam. Give equal time for learning and practising in your study plan.
Reading the directions carefully, answering the questions that you are confident with first, and eliminating incorrect answers are a few strategies for scoring well in the SAT exam.
Paying attention to the context, reading each passage completely, and memorising the formulas for the Maths section can help you secure a high score in the exam.
Having a target score for the SAT exam will make you move forward with a certain goal. Aiming a score will help you to get admissions in your preferred institute or to get scholarships.
Take practice tests to not just measure your errors you make in the sections but also track the hidden mistakes you do such as spending too much time on one question, stressing about handling the exam paper or any other.
Utilize the free study materials that are available on the internet, but make sure it is from the right source. Cross verify the pattern of the material whether it follows the updated one or not.
Plan for the SAT preparation according to your way of studying and based on your preferred time. Make sure the plan carries practice tests for each question type, section and also mock tests.
Take a mock test to know your ability in each section, your strengths and weaknesses, where you need to improve, where you can manage your time and others.
SAT has a mathematics section in it. Start memorising the formulas, shortcuts which will help you to solve the answers easily.
Get the guidance from the experts of Kanan International. Having a mentor to guide you will make you achieve the desired score and they will analyse the weaknesses better than you.
Reach our SAT Coaching Center in Vapi
Kanan International SAT Coaching Center in Vapi is located from the places such as Daman, Amli, Silvassa, Pardi, Parnera, Valsad, Dharampur, Bilimora, etc. Don't hesitate to reach us, as it takes some less time to visit.
Address of our SAT Coaching Center in Vapi
101-3, V2 Signature,
Vapi-Daman Road, Chala,
Vapi, Gujarat-396191, India
Working hours :
09:00 am - 07:00 pm
Faq - SAT coaching in Vapi
What is the fee for SAT Training in Vapi?
SAT Coaching fees in Vapi are reasonable (Rs.15000) with various payment options and multiple instalments available. You can pay the fee either online or offline. When compared to other coaching institutes offering SAT training in Vapi, Kanan International provides the best coaching facilities to its students at an affordable cost.
How many sections are there in the SAT?
There are 3 sections: Evidence-based reading and writing and Maths, with an optional Essay section.
How many times can I appear for the SAT examination?
The College Board does not impose any limit on the number of times you can take the SAT. You can take the exam as many times as you want. In India, the SAT exam takes place 5 times in a year, in the months of March, May, August, October, and December.
How much time does it take to prepare for the SAT examination?
It all depends on how quickly you learn. Although 3 months of preparation is usually needed, many students crack the exam after preparing just for a month.
Does the SAT examination have only multiple-choice questions?
Yes, there are only multiple-choice questions, with a 200–800 score range. The SAT is three hours long, except for the optional essay and breaks. The overall test time increases to 3 hours and 50 minutes when the optional essay section is included.
Why should I opt for SAT Coaching in Vapi?
Registering for a SAT training class at the Vapi coaching centre of Kanan will help you secure a good score. A coaching centre can tell you the nuances of any exam that you take, which wouldn't otherwise happen when you prepare on your own.
What are the Common Competitive Entrance Exams for overseas education other than SAT?
The GRE, GMAT, SAT, MCAT, and LSAT are some of the most common and relevant entrance exams for studying abroad. Although there are subject-specific exams, the majority of these exams are required for admissions to universities and colleges around the world.
What is a 'perfect' SAT score?
You'll need a composite SAT score of at least 1200, ideally 1400 or more, to get into one of the top 100 most selective colleges abroad.
What is SAT 1 and SAT 2? How are they different and how does one prepare for each of the tests?
You will almost always be required to take the SAT 1 exam when applying to universities, but you will have the option of taking the SAT 2 exam also. This is because SAT 1 examines general literacy and numeracy skills that are applicable to all fields of study, while SAT 2 examines specific expertise on specific fields.
How can students improve their knowledge of SAT?
Test prep tools can help students improve their vocabulary, reading comprehension, and basic maths skills. Test prep books and practice exercises are available at the library, the SAT and ACT websites, and bookstores.
What is the normal duration of the SAT classes in Vapi?
Some students can study once a day, twice a day, or three times a week. Some people prefer 30-minute sessions, whereas others prefer to study for 3 hours 3 times a week.
How can I view the SAT results?
Candidates can check their SAT scores online at the official website of ETS, or they can request their score via emails.
How long does it take to get the SAT result?
The SAT result is normally available one or two weeks after the test date. Candidates can verify their results by going to the official website of ETS and choosing the test date.
Is a course refund option available for the SAT classes in Vapi?
No, but one can benefit from the free demo classes and guidance sessions before registering for the course.
What's the fee for Kanan's SAT coaching classes in Vapi?
Kanan's SAT coaching classes in Vapi come with an affordable fee of Rs.15000. And the payment can be done both offline and online.
Does the SAT coaching center in Vapi provide study materials?
Yes, Kanan's SAT training centre in Vapi provides study materials in the form of books, PDFs and recorded video lectures.
Does Kanan International offer lectures on a daily basis?
The SAT classes are conducted as per each student's requirement. Weekend classes are also available in Vapi.
What is the payment option for the SAT classes offered by Kanan?
Payments can be made both offline and online. Online options like net banking, debit card, credit card, and gpay are accepted.
What is the difference between SAT and ACT?
One of the major differences between SAT and ACT is that ACT includes a science section, and SAT does not. ACT is scored on a scale of 1 to 36 and calculators are allowed in all the Maths sections. Moreover, the ACT exam lasts for 2 hrs 55 mins, excluding the Essay section.
Is Kanan International SAT coaching in Vapi located near me?
Kanan International SAT coaching in Vapi can be easily reachable by students who are in places like Daman, Amli, Silvassa, Pardi, Parnera, Valsad, Dharampur, Bilimora, etc.