IELTS Coaching in Navsari
British Council, IDP, Cambridge University conducts IELTS exam to measure your English language proficiency and the skills such as Reading, Writing, Listening, Speaking on a scale of 1-9. To prepare for this test you need expert guidance from Kanan International which has 26 years of expertise in study abroad coaching. The best IELTS coaching in Navsari for the 2021 updated syllabus for both IELTS general training and IELTS academic training sections.
Are you looking for quality IELTS preparation in Navsari? Then look no further. We Kanan International is a leading study abroad consultant and coaching center in Navsari. We have helped more than 20000 students to achieve their dreams of studying in abroad Universities. We have tie-ups with more than 150+ Canadian American Universities. You can trust us for the best IELTS coaching in Navsari for a guaranteed 8+ band score in your first attempt.
What is the syllabus for IELTS course in Navsari?
Our classes, study materials, practice and mock test format carries the latest syllabus. All of our batches of IELTS courses in Navsari follow the updated syllabus that is issued by the British Council. IELTS Academic and General Training is given by us, we cover each of the sections, question types in our preparation plan. The IELTS exam syllabus 2021:
IELTS Listening Test
The IELTS Listening test involves listening to four recordings: 2 people conversations in an everyday context, 4 people conversations in academic basis, monologue recordings in academic and everyday basis. The type of questions you've to answer are: Multiple-choice, Matching, Plan, map, diagram labeling, Form, Note, Table, Flow-Chart, Summary Completion, Sentence Completion, Short-Answer Questions. The number of questions is 40 and the duration is 30 minutes.
IELTS Reading Test
The IELTS reading test carries three passages with 40 questions and the duration of the test will be 60 minutes. It contains 11 types of questions: multiple choice, identifying information, writer's views, table, matching information, matching headings, matching features, matching sentence endings, sentence completion, summary, note, short-answer questions, flow-chart, diagram completion.
IELTS Writing test
In the IELTS writing test you need to write two essays. You'll be given a graph, diagram, table, or chart, you need to write a 150 word description based on your understanding. In task 2 you've to write 250 words based on the given problem or argument. The total duration to complete the tasks is 60 minutes.
IELTS Speaking test
The IELTS speaking test is to evaluate your communication skills. The first part of the test will be an introduction about yourself, the second part will be about a particular topic, and the final part will be a deeper discussion about the previously stated topic. You'll be given 11-14 minutes to complete the task.
Our IELTS course in Navsari involves all of these four sections which are the updated format that the British Council prescribed. By getting prepared for the IELTS exam from our institute, you don't have to worry about being trapped into the false pattern.
What are the upcoming batches, schedules, timings, duration, course fees of the best IELTS coaching center in Navsari?
Are you looking for an IELTS coaching center in Navsari? Are you looking to score an 8+ band in your first IELTS exam attempt? Don't worry. At Kanan International, we have 26 years of experience in study abroad consultancy & foreign university entrance examination coaching. Our weekday IELTS classes in Navsari start on the First Monday of every month and weekend IELTS classes in Navsari start on the First Saturday of every month. Choose from any of our weekdays, weekends, online, offline, fast-track batches to get prepared!
| IELTS Batch in Navsari | Batch starts on | Timing | Duration of the course | Availability |
| --- | --- | --- | --- | --- |
| Weekdays regular | 27 Jun 2022 | Flexible Timing between 9.30 AM - 8.30 PM | 60 hours | |
| Weekdays morning | 28 Jun 2022 | 9.30 AM - 8.30 PM | 60 hours | |
| Weekdays evening | 1 Jul 2022 | 9.30 AM - 8.30 PM | 60 hours | |
| Weekends | 4 Jul 2022 | 9.30 AM - 8.30 PM | 60 hours | |
| Online batch | 6 Jul 2022 | 9.30 AM - 8.30 PM | 60 hours | |
| Fast-track batch | 6 Jul 2022 | 9.30 AM - 8.30 PM | 60 hours | |
IELTS Batch in Navsari
Batch starts on
Timing
IELTS course fees in Navsari
Duration of the course
Availability
Weekdays regular
27 Jun 2022
9.30 AM - 8.30 PM
60 hours
Weekdays morning
28 Jun 2022
9.30 AM - 8.30 PM
60 hours
Weekdays evening
1 Jul 2022
9.30 AM - 8.30 PM
60 hours
Weekends
4 Jul 2022
9.30 AM - 8.30 PM
60 hours
Online batch
6 Jul 2022
9.30 AM - 8.30 PM
60 hours
Fast-track batch
6 Jul 2022
9.30 AM - 8.30 PM
60 hours
Are you writing the IELTS exam in Navsari shortly? You cannot find suitable batch timings above?. And are you looking for a customized IELTS coaching center in Navsari? Don't worry. We conduct customized training programs in Navsari. Call us to know more and to enroll in our IELTS course.
Who will train you?
What is the coach/Trainer profile for IELTS classes in Navsari?
The Cambridge and British Council certified trainers who have 6+ years of experience in giving coaching for study abroad exams like IELTS, TOEFL, SAT, etc, will give training for you.
You will get trained from the CELTYL, DELTA, TESOL, TEFL, and CELTA certified trainers at our IELTS classes in Navsari.
Our trainers have more than 8 years of experience in providing training for the students' whose aim is to fulfill their study abroad dreams.
All of our IELTS classes in Navsari are taken by the Cambridge and British Council certified trainers.
In the journey of making the students' fulfill their dreams, our trainers have a record of 2000+ students who scored a good band score in the first attempt.
Our trainers have experience in handling different proficiency levels and capabilities of students. If you're having a beginner or intermediate level proficiency, don't worry our trainers will help you to scale up.
Our trainers are the IELTS top scorers and have a practice of appearing for the exam frequently to know the evolution of the exam pattern, areas that can be difficult, and other hindrances that student's face.
Our coaching involves a limited number of students and thus our trainers know each of our students' skills and abilities, which makes it easy for trainers to give individualized training.
10 reasons why you should enroll for IELTS training in Navsari at Kanan International
Having confusion about enrolling for our IELTS training in Navsari? With 26 years of experience, 20,000+ students trust, we provide the best coaching and guidance to achieve your study abroad dreams. Check out our top reasons to know more about us:
Expert trainers for the best IELTS classes in Navsari
100's of Practice exams and mock test
IELTS updated syllabus 2022 study materials
150 plus Canadian and American Universities tie-ups
Specialized training for IELTS academic and IELTS general
Practical training for all four components, including reading, writing, speaking and listening
Excellent English language trainer to improve your English skills
Whether you want to study in abroad universities in the UK, Canada, Australia, USA, etc., for a Master's program, or if you want to migrate to an English-speaking country for a job, we can help you with our expert guidance and Visa Processing Unit.
One-on-One training
100% guarantee results. Trusted by 20,000+ students.
It involves considering too many factors to choose the best IELTS coaching institute in Navsari. To make that decision-making process easier, we listed the top reasons why you need to choose our IELTS training in Navsari among others. Reach us now!
What is IELTS?
International English Language Testing System (IELTS) is a test conducted to test the English language ability of students wishing to study, work, or immigrate abroad. It tests the four primary skills - Reading, Listening, Writing and Speaking. It is the most popular international test to check English proficiency which is taken by over 3.5 million people every year.
Format of the IELTS test
The IELTS test involves two tests: Academic and General. Both these exams will test the four skills - Reading, Listening, Writing and Speaking, however the format will differ. The IELTS Academic test is taken by students who want to study abroad. IELTS General test is taken with the purpose to work, settle and do secondary education abroad.
Who can do this IELTS course in Navsari?
If your wish is to do your undergraduate/graduate/diploma courses, or secondary education, work, or immigrate in abroad countries, then this course is for you. Kanan International is an expert in providing training for those who have study abroad dreams. Join our IELTS course in Navsari Now!
What is the eligibility or pre-requisite to joining our IELTS institute in Navsari?
Knowing the eligibility requirement is one thing you need to make it as a first priority before appearing for the exam. The IELTS exam doesn't involve many criteria or restrictions, however it has some basic requirements that you need to consider. Let's check the eligibility criteria for the IELTS exam and take coaching in IELTS institute in Navsari:
The age eligibility to appear for the IELTS exam is a minimum of 16 years. However, it's not specifically mentioned by the British Council.
There are two types of IELTS exam: IELTS Academic and IELTS General. Before registering, know for which course you need to apply.
The educational qualification for the IELTS exam is a minimum of 10th, 12th.
A valid passport is required.
Have to be proficient in English Language and each of the skills.
These are the basic eligibility criteria for IELTS exam. Kanan International IELTS institute in Navsari conducts a mock test upon joining to check your ability and proceed further by giving training accordingly.
IELTS training with Spoken English classes
As the IELTS exam involves only one section to test your English speaking skills, improving your fluency is essential to study, work, and live abroad. That's made Kanan International to provide IELTS training with Spoken English classes. We concentrate on the test format of the IELTS exam to improve your proficiency and also provide suggestions, training to improve your fluency.
Batch size for IELTS training in Navsari
We have multiple weekdays batches, also weekend and fast-track batches for IELTS training in Navsari, you can choose based on your flexibility.
Considering the changes in trends, many students consider preferring our online IELTS coaching as it will be more convenient to get trained from your comfort.
We serve limited students with extensive guidance at our IELTS training in Navsari.
With fewer students in each batch we have one-to-one interaction and mentoring sessions.
Our classes provide you study abroad exam training, improve your English proficiency, update study materials, class recordings, assessments and much more.
Coaching modes for IELTS Navsari preparation batches
IELTS Online Coaching: Keep your worries aside, spare some time for IELTS preparation, take our online coaching from your comfort. Interact live with our experts, learn, improve and become proficient by achieving an 8+ band score.
IELTS Offline/Classroom Coaching: Tired of taking too many online classes? Don't worry, Kanan International conducts classroom coaching where you can have experts who give individualized training along with the general classes. Choose your preferable timing for the offline batch to make the preparation convenient.
Have queries regarding IELTS dates in Navsari or IELTS Navsari centre or IELTS fees in Navsari or IELTS coaching classes in Navsari?
Want to know where the IELTS exam center in Navsari is located? Want to know more details about upcoming IELTS exam dates in Navsari? Or know more about IELTS sections like reading, writing, speaking, and listening? Or want to know about writing the IELTS exam? Don't worry, you will find answers to all of your questions by just giving a call or making a chat.
If you need to clarify your doubts instantly, then you can ask your questions by using the hashtags #IELTSClassesinNavsari or #IELTSprepwithkanan in our social media platforms. Make your doubts cleared not only by just contacting them but also by getting training. Join Now!
Reviews
Our students who are proud of their achievements, eventually become our brand ambassadors. We're indebted to them.
This is Dinesh Choudhary. I have got a 7 band score by taking the training from the Kanan International Navsari. My trainer helped me a lot by understanding my ability and giving suggestions to improve in each section. They conducted many mock tests to make the practice easier. I highly recommend this institute.
I'm shyam patel, taken coaching from Kanan International Navsari. I got a 8 band score in listening. The faculty covered each area of the syllabus. Their way of teaching is very well understandable. They clear each of the questions that I asked. I'm thankful for the decision to learn here.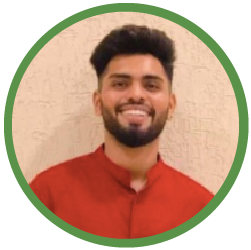 Vidhi Kukadiya here. I'm grateful to the Kanan International Navsari team for making me get the band score of 8.5 in listening, 8 in reading and overall 7.5. My trainer is too good in giving suggestions, explanation, training and guidance. The study material and portal access were much helpful in getting that score.
Certification
Kanan International study abroad coaching institute provides the course completion certificate for the training you've undergone. This will be issued only if you attend all of our classes, take practice and mock tests in each of the sections. It can help you to showcase your English language proficiency for other areas not to study abroad, for that you need to appear for the IELTS exam.
IELTS General training in Navsari
You can take our IELTS General training in Navsari from the expert trainers to take your secondary education, get a job and to immigrate. Our IELTS General training covers all the four sections, the reading and writing test format will differ in comparison with the Academic test. We follow the latest syllabus, techniques, and shortcuts to attempt the exam easily.
IELTS Academic training in Navsari
Our IELTS Academic training in Navsari is meant for students who wish to do their undergraduate or graduate courses in universities or colleges abroad. We make you proficient in all the four modules of the IELTS academic test. Our Cambridge and British Council certified trainers will guide you till you achieve the desired score in the mock test we conduct. Thus, you can appear for the exam confidently.
Top scores from our IELTS coaching in Navsari
Our IELTS coaching in Navsari trained more than 3000 students and made them achieve the desired score in the first attempt. The score of 6.5 and above is secured by 87% of our students and more than 70% of students scored a 7+ band score.
10000+
no of students in last 5 years
Top 7 IELTS Listening Preparation Tips
You'll be given some time to read the questions, make use of them. Reading the questions before listening will help you to focus on the particular information.
Remember, you only have one chance to listen. While taking your practice test follow the same, don't pause or listen many times to answer the questions.
Concentrate on the conversations, not on the distractions and the background speakers. There will be two types of conversations: conversation between 2 people and 4 people.
Try to practice and listen to the audio as per the format, not the random one.
Listen to the conversations of the people that are related to the academic environment.
Practice note-taking, as you can't remember everything you listen to. Practice listening and writing at the same time.
As conversations, practice listening to the monologue recordings related to the everyday context and academic basis.
English Coaching for TOEFL, GMAT, GRE, and IELTS
Study abroad training will never come to an end without English training. Especially for the aptitude exams like GMAT, GRE, in addition to focusing on improving your aptitude ability, we also focus on your English communication. The training you get at Kanan International will not get completed only by covering the syllabus, it also involves other study abroad aspects.
Online IELTS Academic Training in Navsari
If you want to do any skill-based courses but don't want to miss out on IELTS preparation, then our online IELTS academic training in Navsari will be the right choice for you. You can make a live interaction with our experts by taking our classes, to ask doubts, make discussions, get techniques. Even our online classes have frequent practice and mock tests to test your ability, provide suggestions and make you improve to get desired score.
IELTS Coaching for Beginners, Intermediates, advanced levels
Having experience of 26 years and handled many students, we know that each students skills and capabilities differ. That's why Kanan International IELTS coaching is designed for all level of students, be it beginners, intermediates or advanced. We also provide customized training and study plan to improve the areas in which you need more attention.
IELTS Coaching for Canada PR and Study Abroad - General and Academic training
There are many abroad countries to do your studies, but if your wish is Canada, we will help you. We are the only institute who have Immigration Consultants of Canada Regulatory Council license. Our IELTS coaching for Canada PR not only focuses on making you achieve the great band score but also help you to land in the dream country Canada. Our IELTS coaching for study abroad involves giving training for both general and academic tests.
IELTS doubt clearing sessions and Coaching Discussions in Navsari
At our schools/colleges the practice of asking doubts will not be held until the teachers/professors ask for. But, that tradition got changed at our IELTS coaching. We conduct a separate doubt-clearing session to clear the doubts/challenges that are faced by the students in particular questions/skills/concepts. These sessions are conducted before/after the classes. Also, we conduct these sessions after the practice/mock test is undergone.
Everything You Need to Know About IELTS Coaching in Navsari
IELTS Eligibility 2022 The minimum qualification can be 10th, 12th and the minimum age is 16 years.
IELTS registration fee: The registration fee for IELTS exam is Rs. 15,500. Our IELTS coaching in Navsari fee is Rs. 15,500.
IELTS Exam types: There are two main types of IELTS exams, they are IELTS Academic and IELTS General.
Exam duration of IELTS: The overall duration of the IELTS test is 2 hours and 45 minutes. 30 minutes for Listening, 60 minutes for Reading, Writing is for 60 minutes, and Speaking will be 11–14 minutes.
IELTS retake: Retaking the IELTS test doesn't have any limitations. You can appear for the exam as many times as you wish.
IELTS exam date: Check the British Council website to get the updates. The schedule of the 2022 IELTS exam is from 9th January 2022 to 19th December 2023.
Reschedule IELTS exam: Reschedule the IELTS exam with a gap of at least 15 days from your scheduled date.
10 Tips for Scoring 8 Band in IELTS in the first attempt
Follow the exam pattern and practice all types of questions and sections to know the weaknesses and strengths.
There are no negative scores in the IELTS exam, so you can answer all the questions, make guessworks for unaware questions.
Practice learning new words and the synonyms of words. Try to use it in real-time conversations.
Answering all the questions within a time limit will be a great challenge in the IELTS test. Practice each section with the prescribed time duration.
Improve your reading skill not only by reading the passages but also by including skimming, scanning, note-taking, keyword focusing.
Transferring your answers in the sheet plays a key role in getting your score. Try to concentrate on your spelling, grammar, and punctuation.
Take as many mock tests as possible to practice your listening, reading and writing skills as each section involves performing the combination.
Track your performance by conducting a test before starting learning, know your abilities and work on the improvement areas.
Practice speaking just by yourself or by getting help from a friend or person who you are comfortable with.
You can seek help from the experts who guide you in all aspects of your IELTS preparation. Kanan International has experience of 26 years in providing study abroad coaching.
Reach our IELTS coaching Center in Navsari
Kanan International IELTS Coaching Center location is nearer to major localities in Navsari like Gandevi, Bilimora, Jalalpore, Surat, Chikhli, Valsad, Sachin, Parnera, etc can reach us.
Address of our IELTS Coaching Center in Navsari
B-01, Bai Ratanji Bamji Building,
Opp. Lunsikui Cricket Ground,
Navsari, Gujarat-396445, India
Working hours :
09:30 am - 06:30 pm
FAQ - IELTS Coaching in Navsari
Is it good to take IELTS coaching?
Preparing for the IELTS exam by yourself will be quite frustrating. Evaluating your skills by yourself will restrict you from improving. However, with the right mentor, you don't have to worry about the aspects in the preparation plan, instead you can just follow their guidance. Kanan International IELTS coaching in Navsari will guide you in all aspects to get the desired 8+ band score.
What is the fees for IELTS coaching in India?
The fees for IELTS coaching in India varies from institute to institute. Kanan International IELTS coaching fee is Rs. 15,000.
How can i prepare for IELTS in 14days?
Preparing for the IELTS exam with the time constraint will give you stress. The more time you allocate for the IELTS preparation, the less stressed you will be and with much timing on hand you will be able to concentrate even on your minor errors. However, with the expert guidance, you can ease your preparation with the feedback, techniques, shortcuts, strategies they suggest.
Can I give IELTS from home?
Yes, you can take the IELTS exam online from the comfort of your home or from any other location. You can also do your preparation from the comfort by taking the Kanan International IELTS online coaching.
No, it's not. IELTS test is an English language ability test which involves the four primary skills, not any trick questions. There are 3.5 million students appearing for the IELTS exam every year. At Kanan International, we trained 150k+ students overall in the decade and the majority of them got high scores in the exam.
Where is Kanan International Navsari located?
Kanan International Navsari coaching institute is located at the address: B01 BAI RATANJI BAMJI BUILDING, Gujarat 396445. You can visit our institute from places such as Gandevi, Valsad, Utran, Bilimora, Sachin, Dharampur, etc.