Is studying abroad worth it? Benefits and advantages of studying abroad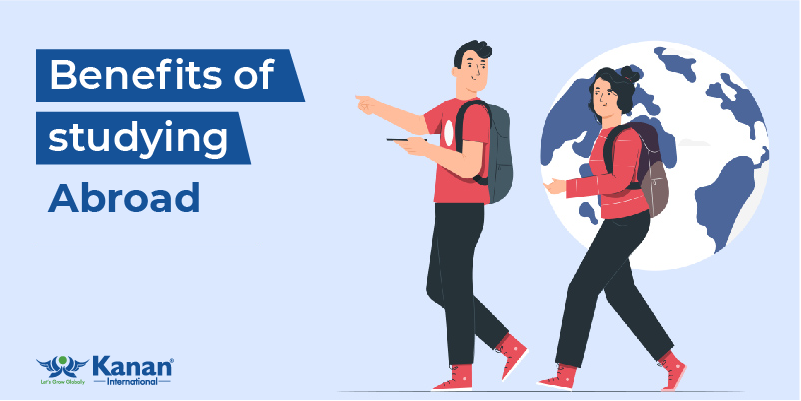 Is studying abroad worth it? What are the benefits and advantages of studying abroad?
Why is studying overseas so important? If you are thinking of all these, then you have chanced upon the right place which will answer your critical questions on overseas studies.
How many times have you heard this - 'a degree abroad will change your life' or 'studying abroad can set you on the right path for life'. Well, all these are true.
There is a reason why so many students from India and all over the world move abroad for higher education. Studying abroad is still considered to be a life-changing experience owing to the global student atmosphere, recognised international degree, and world-class education.
Indian students still consider study abroad to be beneficial for them even during this pandemic. As more and more countries gear up for vaccination, students are rapidly restarting their study abroad plans. But it's quite natural to be doubtful about your choice.
You may start wondering 'Is studying abroad really worth it?' 'Is this a good time to make investments in education abroad?' 'Will I be able to get good returns once I complete my overseas studies?'
Let's revisit the benefits of studying overseas - and why you should give it a thought.
20 benefits of studying abroad
Without further adieu, here is the list of 20 benefits of studying abroad.
1. Chance to interact with culturally different people
Who doesn't want to know what's happening in other parts of the world. What are the different types of cultures and ethnicities you have apart from yours? What's the style of cuisine, living, etc. of other people from various parts of the world?
Studying abroad helps you know all that. It gives you a great opportunity to acknowledge and understand what values other cultures have. It helps you become more empathetic towards another ethnic community.
When you study overseas, the greatest advantage that you have is to immerse yourself in the life that different people live. It could be a bit hard to strike a balance between your lifestyle and theirs, but keeping an open mind helps.
2. Advanced research opportunities
Countries like Germany, Ireland, France, the US and UK, and Canada invest a considerable amount of money in several research initiatives, year on year. Germany has adopted many sustainable research practices over the years.
Becoming part of the research and development sectors in countries like the US, Germany, and New Zealand will boost your career prospects to a great extent. According to a report released by the World Bank, the countries that heavily invest in their research sectors are Switzerland, Sweden, Japan, Austria, Germany, Denmark and the USA.
Let's not forget that science and technology drives the world. To be part of a growing scientific community can give you a sense of satisfaction in the long run.
3. Travel opportunities
Yes, that's right. When you study abroad, you get a chance to travel to other parts of the world. You get access to so many places which otherwise you'll find it hard to get into. For instance, if you study in Ireland you also get access to visit Dublin, and if you study in Denmark, then Copenhagen and other Scandinivian towns are just a stone's throw away.
Make use of all semester holidays. Travel to lesser-known places or take internships that will help you travel. Travelling is an important part of everyone's lives. It helps us appreciate others' world views and helps you understand the loopholes in your own views.
4. Become a global citizen
In a literal sense, you do become a global citizen when you study abroad. This is because a degree overseas gives you an edge to explore so many other opportunities in life.
You not only expand your worldview, but also learn so much about managing yourself. In a true sense, you become independent because you're left on your own to think.
A global perspective can open up the door to numerous opportunities. You may pick up a language or two, or you may figure out which country you are most comfortable to work in.
5. Gain soft skills
Getting a degree overseas definitely helps you communicate better. When you are in the midst of different cultures, you learn things that you should and shouldn't be doing. You learn what to speak and how to speak, and what are the likes and dislikes of people in general. These soft skills will remain with you for life.
You'll gradually find yourself to have grown up into a completely well-developed person who can think for others as well as for yourself. Gaining soft skills helps you become street smart, and you learn how to present yourself in all types of situations.
Soft skills play a vital part when it comes to getting a job. The majority of employers judge a suitable employee based on the body language of the person and the way he/she presents different ideas to others.
6. Personal development
It's obvious that with added soft skills, you see a lot of personal development in yourself. You tend to become more unbiased towards different views, and you grow up to become more well informed about many things in life. Money management and time management are other required skills that you develop.
7. International degree and PR
A degree abroad makes you internationally recognised. It also gives you an opportunity to apply for residence visas. Many countries have eased their stay-back options for graduates. Countries like the UK, Ireland, Canada and Germany are some of the best countries to study abroad, as they allow students to stay and search for jobs after graduation.
Use these opportunities to your advantage because once you miss them, you lose the chance for a lifetime.
8. Diverse courses
Kanan International has tied up with over 250 universities and colleges all over the world. This gives you a chance to explore diverse courses. The courses are well-researched and relevant in today's world and helps you achieve a fulfilling career.
9. Overseas Employment opportunities
Employment opportunities open up for you more when you study abroad. Abroad countries welcome Indian students to work for them. And sometimes knowing an additional language speeds up this process.
You'll seldom find any country that is biased about hiring Indians. However, there are laws and you need to abide by those. For instance, some countries have rules that only the employer can apply for a visa on your behalf, e.g., SIngapore.
Getting a PR is closely connected with the immigration laws of a country too, so make sure you are aware of such rules and regulations.
10. Better quality of life
Who doesn't want a good quality of life? As an international student, you'll find better ways to live your life in a country abroad. This topic is a bit subjective since better quality could mean safety and security for someone. While, for others it could mean financial stability. Irrespective of the views that you have, studying abroad can introduce you to a better world.
11. Make friends globally
Needless to say that you'll make friends. But this time, you'll make friends globally. Studying abroad gives you a chance to blend with people from other countries. Who knows you may find the partner for life or that special friend you never had?
Making friends can help you with networking and finding career opportunities that you never expected. Networking goes a long way in establishing lifelong relationships that may help you during unexpected circumstances.
12. Added value to your CV
Almost all organisations want employees who have a globalised perspective. And that can happen through overseas education. Infact, based on a study by IES Abroad, it was found that 90% of students who studied abroad found employment within 6 months of graduation.
The employment factor could be subjective depending on which country you study in. Also, stay-back option, your academic performance, and the course you choose to study should be factored in.
13. Enhance your language skills
The opportunity to study overseas can boost your language skills 10 times more than what you had earlier. This can also pave the way for job opportunities, for example, in countries like France, employers give a higher preference to hiring native language speakers as their employees.
14. Discover food
Have you heard of Kartoffelpuffer, Kartoffelkloesse, and Sauerkraut? What do you think these are? City names?
Well, these are names of different German dishes.
Before moving abroad, you may think that you cannot survive overseas without your staple diet. But that's not true. Every country has their own food habits, and it's absolutely possible to live by that. As much as you enjoy different cultures and languages, ensure you enjoy different food too. But wait, we are not asking you to gorge yourself on a big lobster if you are a hard-core vegetarian.
15. Be self-reliant
Once you are on your own, you learn to be self-reliant and manage everything on your own - from doing dishes to handling finances. You are no longer seen as someone who always steps back for the need of some support in your chores.
16. Know yourself
Being self-reliant also lets you understand who you are and what you want out of life. There is nothing like taking care of yourself and being responsible for what your decisions are.
17. Enjoy the perks of being an international student
There are so many perks that an international student receives while pursuing higher education abroad. For instance, you get to use your student ID card and travel locally for free in some countries. Or sometimes you may get discounts on books and stationeries and utilities that you need.
18. Become flexible
Being flexible is an inevitable part of the study abroad journey. You can't escape that! Otherwise it would be hard for you to live on your own regardless of wherever you are.
19.Leadership ability
Leadership skills come with the ability to think for yourself, clearly. If you can make decisions on your own, you can do so to help others too. Studying abroad is beneficial in this aspect because it enables you to think critically and independently.
20. Higher pay
There's a vast difference between the salary that you expect in India and abroad. A majority of students choose higher education abroad to uplift their economic situation.
Other advantages of foreign education
Studying overseas is totally worth it for the following reasons:
Personal advantages of foreign education
Some of the personal achievements that you get from overseas education are -
Learn to be more financially strong
Become aware of yourself
Learn to handle adverse situations
Learn to use academic opportunities to your advantage
Explore research opportunities
Connect with people from different countries
Gain world knowledge and perhaps pick one or two languages
Develop your soft skills and the way you present yourself
Academic advantages of foreign education
Academic benefits are many -
Gain a degree of international standards
Explore research opportunities and entry into world-leading universities
Become bi-lingual
Become more disciplined in your studies, and in your personal space
Learn to live and manage alone
Develop people skills
Learn how to pay attention to small details
Why study abroad?
Studying abroad helps you to get a degree from a top QS ranked overseas university. Some of the other reasons for study abroad include experiencing international student life with a top-quality college education, scholarships, international job opportunities, a better quality of life and travel.
For many Indian students, getting a degree abroad is a norm. They want to follow in the footsteps of their parents or siblings who would have studied in top institutes abroad. While for others it's a necessity or a choice. There are many reasons why a person may consider to study overseas out of necessity or choice -
When studying abroad is the only way to uplift their living conditions
When they want to explore the world
When they want to be in a developed nation, rather than struggling in a less-developed country
When they feel studying abroad is the only way to strengthen their economic situation
When they know that they value knowledge and will go above and beyond for that
When they want to explore advanced research opportunities, and can't find such opportunities in their native country
Do you see yourself here? Irrespective of what your reasons are, we can make your study abroad happen. Our counselling team does an expert job in understanding what our students want and where they would like to see themselves in the future. Take a look at Kanan.co and register yourself. Our counsellors will get back to you as soon as you have done that.
Advantages and disadvantages of studying abroad
| | |
| --- | --- |
| Advantages | Disadvantages |
| Independent way of thinking | Could be expensive; loan burden |
| Advanced scope of learning | Unable to communicate with other people |
| Knowing different cultures | May come across things that are against your ethics |
| Chances of interacting with well-known researchers and scholars | Any form of harassment - racial or religious |
| Higher payscale | Higher expectations |
| Higher returns on investment in education | High travel cost |
| Personal development | Less chances of receiving help from others |
| Developing a multicultural network | Regulations or travel restrictions |
| Exploring other countries | Social pressure |
| Exploring varied lifestyle | |
| Expanding your own beliefs and values | |
| Managing finances and managing yourself | |
| Getting to know yourself | |
We're not trying to scare you by mentioning the disadvantages above. We want to help you weigh in all the pros and cons before you make a decision. If you observe closely, all the disadvantages mentioned may look insignificant before the significant amount of benefits you get from a degree overseas.
Is it worth studying abroad?
Given the cost of education involved and the stiff competition that students face to apply for admissions abroad, you may worry if it's totally worth it? Besides the reasons/benefits that we have mentioned above for studying abroad, ROI is a huge factor too.
The majority of students want jobs that will pay off their loans and let them uplift their financial state. Studying abroad is totally worth it in that sense. A large number of employers give value to international degrees and they look for students who have varied research experiences. Overseas education gives you all that.
But in order to look for good ROIs, you must do the groundwork first. Choose institutes and countries that are ROI based.
This means you must do enough research to spot the countries where you can work after you graduate, the countries with easy stay-back options, countries that have a high number of companies related to your field, and the employability rate of the university that you choose.
If you can lay a proper plan before you start investing in your dream of studying abroad, then it should be worth it for life.
How to study abroad during the pandemic?
Do you know that in the last 5 years, before 2021, nearly 22 lakhs students opted for higher education overseas. A majority of these students were from Andhra Pradesh and Punjab. In fact, states like Tamil Nadu, Andhra Pradesh, Gujarat, Punjab, Maharashtra and Karnataka account for 56% of students studying abroad [TOI report].
Although the pandemic has stalled the plans of many Indians studying overseas, it does not deter them from moving ahead once everything gets back to normalcy.
According to a source [livemint], almost 91% of students are awaiting to restart their studies abroad, despite the challenges lurking around due to Covid. Also, the Ministry of External Affairs, India, states that India was only second to China in 2020, for sending nearly 10.9 lakh students abroad for higher education.
Looking at all these numbers, one can say that 'study abroad is here to stay'. Students will keep aspiring for a better future, and they will keep looking at options abroad. But the point is how do you make your study abroad plans during the pandemic?
The simple answer would be - like you would do otherwise. With countries opening up their economy and with new and more advanced vaccines being made, we are better than where we were last year.
Universities abroad have strict protocols and effective management systems to tackle Covid situations. Many institutions have revised their fees, introduced more scholarships and financial aid, and also introduced new rules to pay attention to the ongoing crisis.
At Kanan International, we have been organising many online events on studying abroad in countries like the USA, UK, and Canada. We keep updating you with such events as and when they are organised.
These virtual sessions are useful because you get to interact with university representatives. You can ask questions about studying abroad during the pandemic, and anything else that you are wary of. Why don't you sign up on our website, and we'll tell you how to register for such events.
Conclusion
Now that we have given you enough information and tips, it's time for you to get going. Choose your preferred country and the course that interests you. Once you do that, think of the return on investments. Will your course fetch you a job? Is your country open to PR?
Is the healthcare and research infrastructure good in the country where you want to go? These are common questions that you need to ask yourself.
However, if you don't know where to start, talk to people who have knowledge about education overseas. Reach out to Kanan International's study abroad experts. Know how you can devise a strategy to study this year or the next year in a country of your choice.
At Kanan, we have helped over 50,000 students study in countries like the USA, UK, Canada, etc. In addition, we have supported numerous students with exam preparation for IELTS, TOEFL, SAT and GRE; visa assistance; counselling and application support; and so on.
Are these reasons good enough to help you start a new leaf in your career - by seeking higher education abroad? You may wonder 'why study abroad when you can travel abroad'?
The major difference between the two is when you stay in a place for a long time, you live through the experience. Travelling abroad puts you in the place of a mere tourist. But can you see the real-world through the eyes of a tourist? The choice is yours!
Kanan Blog
The latest tips and news from Kanan International team
Making your study abroad planning exciting, bright and way more easier.
Sign up for a free 30-minute consultation
BOOK NOW
Making your study abroad planning exciting, bright and way more easier.
Sign up for a free 30-minute consultation
Book Now