SOP for Mechanical Engineering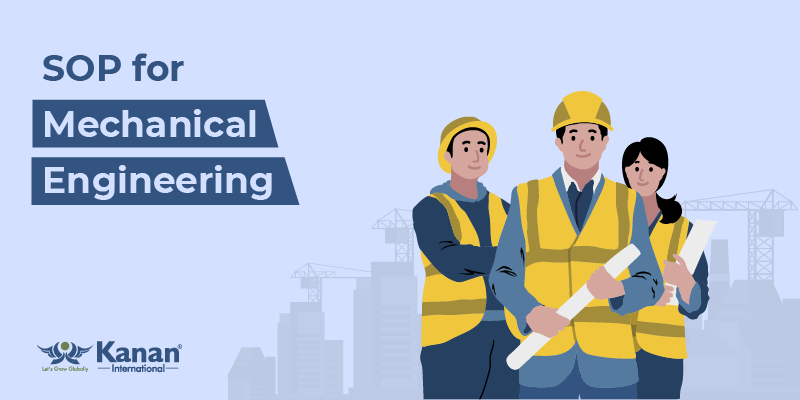 The statement of purpose is an important document required for students who want to pursue undergraduate and postgraduate degrees abroad. Writing an SOP is an essential part of the study visa process. This blog will helps you write a stellar SOP. Follow this blog till the end to produce the best SOP for your mechanical engineering course.
This blog will provide you with a sample SOP for mechanical engineering courses. So kindly understand the format and write it in your own words. The SOP provided in this blog is just a sample of how an SOP should look like. Plagiarising another SOP is not encouraged by universities. Take this sample SOP as a reference for your own SOP, and kindly do not copy.
The students who aspire to study abroad have a lot of queries and doubts in producing a standard Statement of Purpose. Without any delay, let us understand what a standard Statement of Purpose is.
What is a Statement of Purpose(SOP)?
A Statement of Purpose is nothing but a document written in an essay format stating your purpose for pursuing your higher education. A statement of purpose is the most important document of the admission process. The institution gets an idea of how much you want do the course through the SOP you write.
11 Important Details to Focus on while Writing SOP for Mechanical Engineering
There are certain steps to follow while writing an SOP in general and for mechanical engineering. You must include the points that should make the members of the admission committee select you.
Always be credible with the information you give while writing an SOP
Explain what all interests you have in the field of mechanical engineering.
You can write about your scores on subjects related to mechanical engineering such as thermo dynamics, machine drawing, etc.
Explain how you came to know about the course and what motivated you to choose this as your career.
Explain your perspective on how you think that you are fit for this course.
Explain why you want to pursue this course at this particular institution you are interested in.
Try writing your statement of purpose in a formal way.
Do not prolongate your essay with words. Know the word limit and write accordingly.
Write at least 3 to 4 drafts and keep refining it until you feel it is a formal statement of purpose.
Explain in what ways that this mechanical engineering course will be helpful for you in the future.
Proofread your essay before submitting it. There is no harm in asking help to proofread your essay from a well-versed expert in this field.
How to Structure the SOP for Mechanical Engineering?
A structured SOP looks impressive for the admission committee to select you for the course. While writing the primary SOP, you need to be very careful about the word limit. The word limit for SOPs differs from the institution and the country you choose. But, a standard SOPs word limit is from 600-1500 words. You need to write an SOP essay in at least 2-3 paragraphs with a proper introduction, body content, and conclusion.
Start your first paragraph of SOP with an introduction in a lead format by telling the examiner why you want to pursue your career in mechanical engineering in that college or university. Here you can also add points on how you came to know about the course and what motivated you in selecting mechanical engineering.
The body content can go with contexts like how this degree will help your career after graduation. You can also add points about any experiences you have regarding the subject like internships, certification courses, etc. The conclusion is an important segment in the SOP essay you are going to write.
In the conclusion part, you should add points on how passionate you are about pursuing a degree in that college and how that college is going to benefit you in different ways, It will definitely make an impression on you in the admissions committee of that university or college.
Ideal Format of SOP for Mechanical Engineering
Following an ideal format to write an SOP will help you produce a flawless SOP. The following infographic will explain an ideal format for SOP.
SOP for Mechanical Engineering Checklist
Apart from the rules and regulations that are needed to be followed, You should make your own checklist to know how unique your SOP is. Make sure you prepare the checklist 2 or 3 days before the date of submission.
Here are some of the questions that you need to add to your checklist:
Does my SOP give a positive approach while reading?
Did I add all the information regarding internships and additional courses?
Does it mention how I really want this course?
Did I mention all the academic experience in my SOP?
Did I mention my interests in this field?
Does it say how the course is going to help my career?
Make sure you are able to tick all the boxes before submitting your SOP to the respective institution. Your SOP is ready when you are able to answer yes to all the above-mentioned questions. A checklist like this gives you a secure feeling before the submission.
Sample SOP for MS in Mechanical Engineering
Growing up having family members engrossed in the mechanical field, I started to feel a sense of interest in the field. I began to like machines but got a keen interest in opposing my family members and questioning them. This interest led me towards machines that I felt could be the right option for me. My interest also lies in automobiles, especially in those areas where I could go in-depth for a certain car or an engine. Such inspiration took me to dive into the pool of mechanical engineering for my master's.

After completing my 12th-grade science, I got admission to the Excel Engineering College, Chennai, to pursue my interest in Mechanical Engineering. During my four-year curriculum, I gained a lot of knowledge in the field of mechanics through theoretical as well as practical learning, which introduced me to new possibilities.
During my under-graduation, I have worked on numerous projects like thermodynamics, fluid mechanics, metallurgy, Engineering graphics, and Solid-state. With the help of these projects, I have gained immense knowledge of producing my interpretations and conclusions. I have researched the topic of "Design and fabrication of lead spring using composite material."
In my fluid mechanics project, I, with the help of my partner, worked on a paper on Thermal Power stations and their effect on the people of the area. This project exposed me to the experiences of fluid mechanics as it contained sensitive issues and in-depth research.

One internship bolsters my work experience in the mechanical engineering field during my bachelor's tenure. The first internship was done with a sugar belt industry known as the 'Parry Sugars.' Here, I worked under the supervision desk and worked on everyday production and supervision. I worked on 5 sectors, and this 2-month internship introduced me to the in-depth world of mechanics.

After gaining exquisite experience in the practical world of machines, I wanted to specialize more and be different. I pondered much upon the thought for my master's plan when one day, my friend introduced me to pursuing an MS degree. I found the idea fascinating and went about for detailed research in the field.
I came across an MS in Mechanical Engineering on my research, and this subject caught my eye. Moreover, I am sure that an MS in Mechanical Engineering will expand my intellectuality and bring forth many opportunities that one can only think of.

I aim to keep myself occupied even after completing this MS degree, and I wish to blend my experience with a specialized setup. Though I hold immense knowledge in mechanics, I plan to start working on a firm and build myself accordingly. An Engineering-oriented mind will teach me how to make money, and develop my career. Therefore, an MS degree holds immense importance in the upcoming years for me.

As it is well-known, the United States is the best Engineer's hub in the world. An engineering degree from the USA will teach me about the nitty-gritty of the field that I can implement later on in my set of plans. Studying in the USA is also beneficial as the tenure here can prepare me for the opportunities that may come my way. The excellent student background provided in the USA will also prepare me for the future in various ways, which I am quite eager to experience.

The reason behind choosing XXX University for my master's program is the excellent curriculum offered here for mechanical engineering studies. The range of interesting as well as informative modules that have been taught in the course of Mechanical Engineering at XXX University is the main reason to opt for this University. The effective teaching method on the techniques about machines can help me to understand the subject in-depth and also can procure a future in engineering background.
The perfect research and practical exposure one can achieve through this university intrigued me on pursuing my interests from here. The faculty, too, holds great teaching experience as well as I can attain practical work experience here through campus internships and training opportunities. Thus, I am excited to start a new journey with XXX University and learn all about the Engineering field from here.

Apart from being a machine enthusiast, I am also an active volunteer for social activities and part of an NGO named 'Anbagam,' whose main purpose is to educate kids from rural areas. Other activities by Anbagam were to help the needy during natural calamities.
We have also built houses and toilets in the rural areas of Chennai. We have conducted several AIDS and HIV tests for the rural members by providing them the information about sex education. Such activities have shaped me for the better, and I would gladly join the university's NGO group and do my bit.

Having shared my right knowledge and interests, I am quite eager to enter the USA and study for a better future. My aims and an MS degree go hand-in-hand. I am also keen on facing the challenges that may come my way in my journey.
Things to Remember while Writing SOP for MS in Mechanical engineering with Work Experience
There are some additional steps you need to follow while writing an SOP to apply for MS in mechanical engineering in case you have work experience. .
Some of the points you need to focus on are:
Mention why you wanted to specialize in mechanical engineering after leaving your current job as a mechanical engineer.
Make sure you mention all your work experience, achievements and learnings along with academic achievements during your undergraduate degree
Since you are applying for an MS degree, there may be lots of experiences and information that you want to mention. Know what is important to you and also for the admission committee.
Write all the future plans that you have planned after completing your master's degree
Try explaining briefly about the project you did while you were working.
Mention how you handled the academic weightage while pursuing your undergraduate degree.
Write at least 2 to 3 types of SOPs with multiple drafts. Extract the refined copy at the end.
SOP for Bachelors in Mechanical Engineering
Writing an SOP for a bachelor's degree is different from writing an SOP for a master's degree. After your 12th grade, there are several fields that you can pursue your undergraduate degree. So, when applying for a bachelor's in mechanical engineering you need to stand firm on the point on how you really want this course to pursue your career in mechanical engineering. Mention the motive that made you choose mechanical engineering to pursue your undergraduate degree.
Say that you are ready to pursue an undergraduate degree in mechanical engineering. Also, tell them about how you came to know about the institution that you are applying for. Mention, what made you apply to this mechanical engineering in the particular institution that you are going to apply to. Since you are pursuing your undergraduate degree after your schooling, you may face a difference in the way of learning. So, mention that you can face any kind of challenging tasks that the faculties give you.
Some points you need to follow while writing the SOP:
Write your SOP in a positive approach and make the members of the admissions committee feel that you are confident enough to pursue the degree.

Define all the basic questions that are expected to be answered.

Try writing multiple drafts for your SOP and keep refining until your submission

Mention how you handled the subjects related to mechanical engineering in your 12th grade such as chemistry, physics, mathematics, etc.

Go through as many as samples you can. There is no harm in referring to other SOPs but do not plagiarise the content.
SOP for Mechanical Engineering for Important Countries
The format for the statement of purpose differs for institutions in various countries. Try to follow the given format and write your SOP accordingly. Your SOP would be impressive if you follow the regulated format. The admission committees will expect the format that they are regulated for every student.
SOP for Mechanical Engineering at the USA
Word limit generally ranges from 600-1000 words, unless specified otherwise.
Written in English with a primary focus on the preferred course.
Detailing the applicant's interests and experiences and justifying why they would be compatible with the mechanical engineering program.
Mention any extracurricular interests and accomplishments.
Mention social and community building services if there are any.
SOP for Mechanical Engineering at CANADA
The usual requirements are 3 short essays and/or video essays and/or picture essays.
The applicant should go well beyond the admission application to demonstrate their individuality.
An overall fluency of the English language in showing the applicant as a perfect fit by bringing forth mutual benefits. For both the applicant and the university.
SOP for Mechanical Engineering at the UK
Written in the English language with no grammatical or spelling errors.
Set character limit - 4000, set word limit 700-800, unless specified otherwise.
75-90% of the SOP must focus on academic qualifications and achievements.
SOP for Mechanical Engineering at GERMANY
The set page limit is 2 to 3 pages unless specified otherwise.
Must be purely factual and self-reflective.
Must maintain a strictly professional tone in the essay.
The applicant must mention professional goals, ways in which they can contribute to society and how do they estimate their own personality.
SOP for Mechanical Engineering at AUSTRALIA
The SOP should be a maximum of 3 pages unless specified otherwise.
The SOP must be objective-driven and fact-based.
It is not a requirement for the SOP to be in a Unique storytelling way.
Documentary evidence must be provided sustaining all the claims made in the SOP.
The SOP is required for admissions and also for student visa applications.
SOP for Mechanical Engineering at IRELAND
The SOP must be submitted in a form of a letter and the set word limit is 500-600 words.
The SOP must be submitted for both postgraduate and undergraduate applications and the set word limit is 300 words.
Mention the educational qualification, work experience(if any), future plans, and motive for pursuing higher education in Ireland.
SOP for Mechanical Engineering at FRANCE
SOP should be 1-2 pages long with a set word limit of 800-1000 words.
The SOP must be structured in a way that highlights the applicant's unique attributes.
Mention in detail the goals and aspirations while writing your SOP.
SOP for Mechanical Engineering for Important Universities
University of Toronto, Canada
Undergraduate
The word limit is from 1000-1500 words
You can tell what all expectations you have in pursuing this course in a particular university.
Mention the notice that made you select the university and the course
Graduate
Maintain the length of the SOP for two pages
Explain your expectations, career goals, skills in a descriptive format
Keep your essay in a formal way.
Mention the projects that you have done during your undergraduate period.
The University of Montreal, Canada
Undergraduate
The word limit is from 1000-1500 words
You can tell what all expectations you have in pursuing this course in a particular university.
Mention the notice that made you select the university and the course
Graduate
The information that you have mentioned in your SOP regarding experience and skills should be relevant to the course that you choose.
Should be firm in your choice of specialization of the course.
Your expectations, skills, the experience should be mentioned in a descriptive format
Mention how much importance you give to this course to develop your career path.
Princeton University, USA
Undergraduate
Mention your overall academics and also your personality. It is important to mention your personality, it has equal weightage to your academics.
Say about your participation in co-curricular activities.
The word limit for SOP is 300-500 words.
Graduate
The SOP should be written from the student's perspective in the English Language.
The word limit for the SOP is around 1000 words.
Follow a contemporary way of writing in your information.
Mentioning your professional ad personal experience is important.
Conclusion
So, through this blog, we came to know that how much an SOP is important to get admission from a reputed college. Just go through all the important points from this blog such as checklists, tips, regulations, etc. This blog also mentioned the universities and colleges that expect the student to write SOP in a specific format. Follow the word limit that is expected from the university you are applying for. Finally, make sure you say yes to all the questions from the checklist before submitting the SOP document.
Kanan Blog
The latest tips and news from Kanan International team
Making your study abroad planning exciting, bright and way more easier.
Sign up for a free 30-minute consultation
BOOK NOW
Making your study abroad planning exciting, bright and way more easier.
Sign up for a free 30-minute consultation
Book Now