updated on 04-01-2023
IELTS Speaking Part 1 Handwriting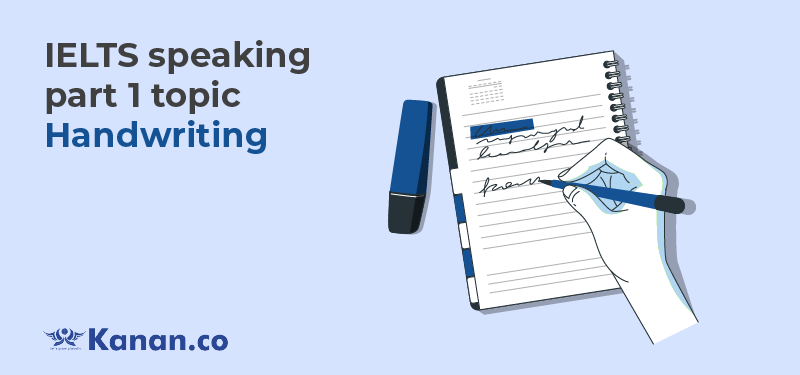 In the IELTS speaking part 1, you must introduce yourself to the examiner before she or he asks you general questions. In this article, you will be getting the IELTS speaking part 1 Handwriting topic for practice examination that will last four to five minutes other than the general questions like home, family, work, school, and hobbies. To assist you in improving your speaking skills, we have provided 15 questions and answers for section 1 of the IELTS speaking, as well as terminology related to the IELTS speaking part 1 handwriting to help you answer correctly and generate ideas.
Handwriting IELTS Speaking Part 1 Questions With Answer
1.How frequently do you write by hand?
Not very often. Because I spend more time typing on computers and texting on my phone, I no longer use handwriting. Even though my handwriting is occasionally unreadable and scrawled, I value it greatly.
2. Do you prefer handwriting or typing on a computer?
Personally, I prefer writing by hand to typing. Despite the many benefits of typing on a computer nowadays, I still prefer to write by hand. Because I believe I can incorporate my own distinct style into my handwriting.
3. What are the advantages of handwriting?
The most obvious benefit of handwriting, in my opinion, is that it can invigorate brain growth. Those with legible handwriting, in my opinion, are typically more intelligent and in positions of leadership.
4. Do you think having good handwriting is necessary?
Without a doubt, yes! Handwriting proficiency is unquestionably important because it can promote cognitive development. The majority of my intelligent friends have excellent penmanship.
5. Do you think computers will completely replace handwriting?
Certainly not! As you are aware, the value of handwriting is decreasing during the fourth industrial revolution, when technology proliferated and electronic gadgets were used. But I am confident that computers will never completely replace handwriting. Handwriting can be useful in some situations. For example, I frequently handwritten party invitations for my friends to exemplify my enthusiasm and sincerity.
6. Do you think handwriting is still important?
Yes, I think so. Handwriting skills will always be important. Formal letter formats must be followed in business resemblance. Writing a CV necessitates writing skills as well. Everyone recognises that we live in a global village. Today, we must compete with young people from all over the world. We are required to look for work with multinational Federations. As a result, excellent writing skills are required.
7. Do you think computers will eventually replace writing instruments? (H4)
Even if technology has reduced the importance of writing skills, I believe they will remain important in the future.
8. Do you usually write by hand or on a computer?
Depending on the situation, I usually use my computer or phone to send emails or text messages to friends. When I'm studying or taking notes, I usually write by hand.
9. When do children in your country start writing?
Nowadays, children start writing earlier. Children typically begin writing at the age of five. They begin elementary school at the age of four.
10. Do you think handwriting will be phased out in the future?
Nope, it doesn't. Handwriting will last forever. Handwriting may become less important as technology advances, but it will still be necessary in a variety of settings. I agree that the day when everyone on the planet will have access to technology is still a long way off.
11. Do you think children should be taught to write like they used to?
Yes, I think so. Writing is becoming extinct as a result of technological advancements. Because computers automatically check spelling and grammar, children are losing these skills.
12. What is your handwriting style?
Although I am skilled in calligraphy and cursive writing, I have simplified and elucidated this example.
13. Which type of handwriting do you think people prefer?
Handwriting, in my opinion, varies from person to person because it is not something that can be practised but rather occurs spontaneously. As a result, there is no preference for handwriting.
14. How do most people write nowadays?
Most people, I believe, prefer to type over the phone or on a computer in order to complete a task quickly. Fear of revealing one's handwriting to others so that it cannot be compared to the handwriting of others may also play a role. Furthermore, they prefer to write on their smartphones or laptops because they value being constantly connected to technology. Even authors want to print their works in this manner.
15. Do you frequently write with a pen?
Yes, I use a pen when taking notes, writing papers, or submitting written research projects. Nonetheless, because we are required to complete our exam papers with a pen, I make it a habit to write frequently.
Find resources for other IELTS speaking parts
IELTS Speaking Part 2
IELTS Speaking Part 3
IELTS Speaking Vocabulary for Hobby
1.Scrawled - Doodle.
Example: Perhaps the windows of the family home have been broken and graffiti has been scrawled on the walls.
2.Merit - Value
Example: These issues deserve special merit.
3.Engulf - Incorporate
Example: The house was quickly consumed by flames.
4.Distinct- Recognizable
Example: There are three distinct categories.
5.Invigorate - Stimulate
Example: A quick walk in the cool morning air always wakes me up.
6.Legible - Vivid
Example: He lowered his gaze to the small scrap of paper in his hand, the spidery handwriting barely legible.
7.Cognitive- Coherent
Example: The tumour is still growing, and cognitive decline is still possible.
8.Penmanship - Handwriting
Example: My father taught me how to write with a pen.
9.Rebellion - Revolution
Example: The king's army crushed the rebellion.
10.Proliferate - Flourish
Example: There are many scientific papers, but only a few get extensive coverage in citation indexes.
11.Exemplify - Demonstrate
Example: His works exemplify the zeitgeist.
12.Keenness - Enthusiasm
Example: John praised my eagerness to work.
13.Integrity - Sincerity
Example: Her artistic integrity is something I admire.
14.Elucidate - Clarified
Example: He pretended to be an angel of God sent to explain the prophecies.
15.Frequently - The condition of not being able to relax because you are worried or nervous
Example:Martha and Betsy talked on the phone all the time.
16.Calligraphy - Type of handwriting
Example: The art teacher was an expert at calligraphy.
17.Spontaneous - Extempore
Example: Sometimes unplanned events turned out to be better than planned ones..
18.Resemblance - Correspondence
Example: He does not look exactly like his father, but there is some resemblance.
19.Federation - Corporation
Example: The organisation grew out of a federation of six national organisations.
20.Extinct- Dead
Example: They were all marine and are now extinct.
Also, check other IELTS Speaking Part 1 Topics
Conclusion
Examine the sample answers for the first part of the speaking exam to generate new ideas. By using synonyms and a larger vocabulary from this IELTS speaking part 1 handwriting topic, you can upgrade your band score by composing original sentences.
FREE Online IELTS Mock Test 2023
Practise our mock test worth Rs. 25000 for FREE and know your IELTS Score!!!
Take the test now
FREE Online IELTS Mock Test 2023
A truly global higher education partner to learners and education institutions Support learners at every point in their global education journey with reliable services, products and solutions.
Global Headquarters
Kanan Int EdTech Inc
229, Yonge Street Suite 406 Toronto Ontario, Canada M5B 1N9
Indian Headquarters
Kanan International Pvt. Ltd.
D-wing, 2nd Floor, Trident Complex, Ellora Park Vadiwadi Road, Vadodara, Gujarat 390007
IT/ Digital Campus
Chennai Office
132, Habibullah Rd, Satyamurthy Nagar, T. Nagar, Chennai, Tamil Nadu 600017
Copyright © 2023 KANAN.CO All rights reserved.